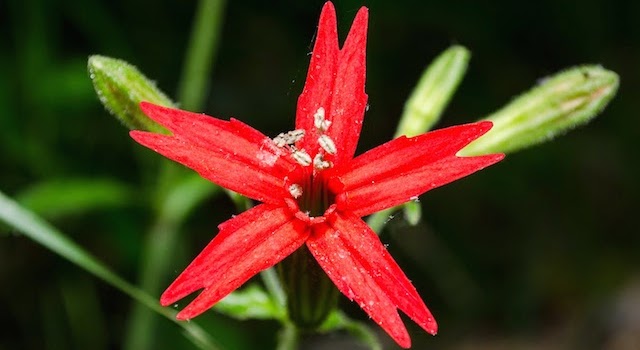 Poet Robert Frost examined the ephemeral beauty of early spring in his evocative short poem "Nothing Gold Can Stay." Frost described the brief period when new leaves first emerge as golden blossoms before developing into green foliage. "Her early leaf's a flower, but only so an hour." Here in the Carolina Mountains, and in Hickory Nut Gorge, we have arrived at that extraordinary hour Frost distinguished. Earliest spring. Season of the spring ephemerals.
Meaning of the Word Ephemeral
The word "ephemeral" means "transitory" or "fleeting". Ephemeral plants are marked by very short life cycles. Spring ephemerals are perennial plants and woodland wildflowers that emerge early and quickly in the spring. Some may blossom, pollinate, produce seed, and die back to their roots- even before the last of winter snows have melted away. Spring ephemerals typically emerge between February and April and have vanished by May. These native plants have a unique strategy. They take full advantage of all the sunlight pouring onto the forest floor before the leaf canopy has developed in deciduous forests. The ephemerals are here and gone before the tree leaves turn from gold to green.
Why Do Spring Ephemerals Thrive In This Area?
The rich diversity of spring ephemerals is a distinctive feature of Hickory Nut Gorge. The unique subtropical climate of the gorge boasts moist hollers and gorges, rocky outcroppings, bands, and mossy banks beside streams and waterfalls- all ideal habitats for spring ephemerals. Even the names of these fragile flowers are enchanting and mysterious. Purslane. Birthwort. Bloodroot. Heath. Lilly. Trillium. Orchid. Buttercup. Fire Pink.
Now is the magic moment to catch a glimpse of these fleeting beauties. Don your hiking boots and take to the trails to spot these jewels. But be aware, several of these rare spring ephemerals are endangered, federally protected and at risk of extinction. Appreciate these treasures with your eyes only.
Here are just a few of the spring ephemerals native to the Hickory Nut Gorge area:
Bloodroot – Sanguinaria Canadensis – (Poppy Family)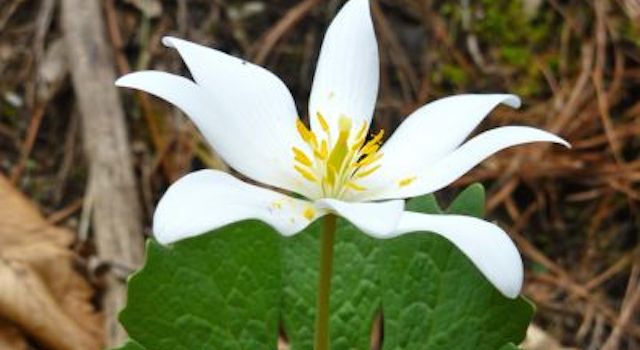 Bloodroot is one of the earliest spring flowers. The slender, white, oval petals drop off after just three days. The root of the plant contains a poisonous red-orange colored sap. Cherokee and other Native American tribes used bloodroot as natural dye for woven baskets.
Spring Beauty – Claytonia Virginica – (Purslane Family)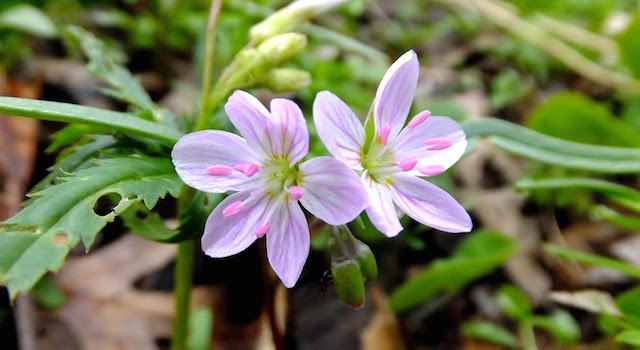 There are thirteen species of this flower in North America. Its scientific name, Claytonia Virginica, was first given in Virginia in honor of John Clayton, an early American botanist, and physician. The plant has slender, grass-like leaves and delicate, tiny white flowers that are tinged with pink. The roots of the plants look like tiny spuds, or potatoes, and are often referred to as "fairy spuds."
Trailing Arbutus – Epigaea Repens – (Heath Family)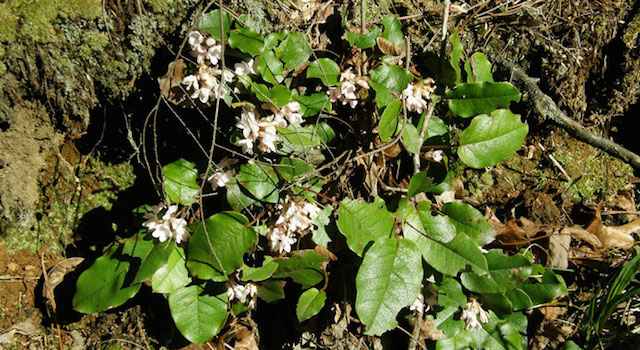 American poet John Greenleaf Whittier celebrated this iconic plant in his poem "The Trailing Arbutus." This dwarf plant, also known as the "ground laurel" is common in elevations between 1,000 and 4,000 feet. It prefers the sandy, acidic soils of pine forests, and soils rich with mica. These vine-like plants have leathery, evergreen leaves and produce small, white, bell-shaped flowers in the early spring. These flowers have a delicate, intoxicating aroma. Early in the 19th century, trailing arbutus was widely harvested in New England and in Appalachia by vendors who crafted fine perfumes from the flowers. The endangered arbutus is now protected by federal law.
Oconee Bells – Shortia Galacifolia – (Diapensiaceae Family)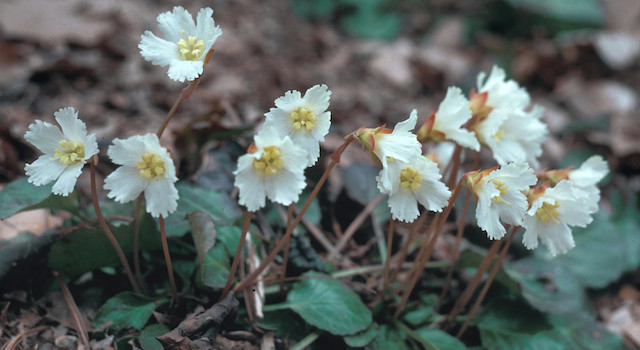 Oconee Bells is a very rare and beautiful plant found only in the southern Appalachian Mountains, concentrated in the tri-state border region of Georgia, North Carolina, and South Carolina. It has also been reported in one mountain region of Japan. It grows along river banks and in rugged, moist gorges where sloping land has been disturbed by mud slides, erosion, fallen trees, logging, etc. The plant has glossy green leaves and white fringed flowers atop salmon pink stalks.
Trillium – Trillium – (Lilly Family)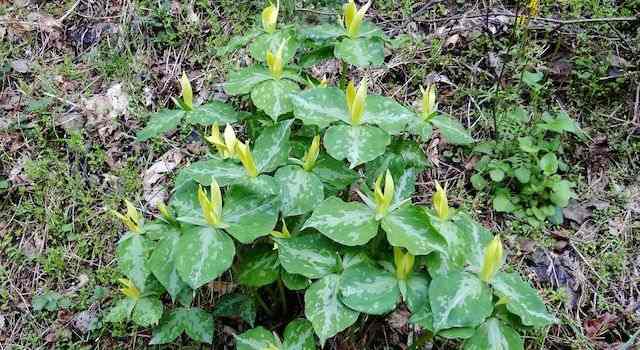 There are seven distinct species of trillium in the southern Appalachians. Several are called by the common name of "wake robin". Trilliums are distinguished by three leaves that radiate from the top of a 6 to 12 inch stalk, bearing a three-petaled flower. The colors of the flowers are somewhat variable and often change with age. The Carolina Least Trillium, the Bent Trillium and the Yellow Trillium (also called the Mottled Trillium) are all considered rare and "Critically Imperiled" by the state of NC.
Wild Ginger – Asarum Canadense – (Birthwort Family)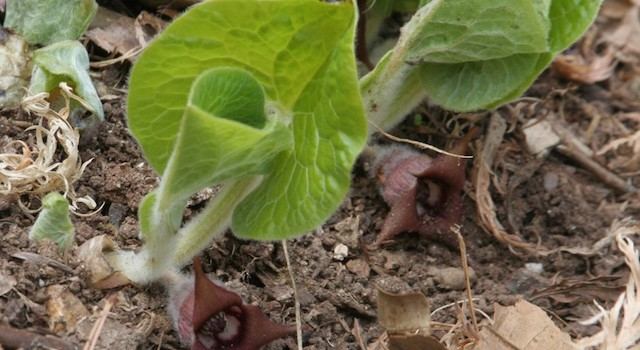 Wild ginger can be identified by its heart-shaped leaves, and stems that are coated in fine, silvery hairs. Early in the spring, wild ginger produces a burgundy colored flower at the base of the plant. The seeds mature in capsules and are dispersed by insects. While this plant does smell similar to the ginger you might find in a grocery store, it should not be used for cooking. It contains a toxic compound. Native Americans used small amounts of wild ginger leaves as a medicinal herb for the treatment of snakebites.
Little Brown Jug – Hexastylis Arifolia – (Birthwort Family)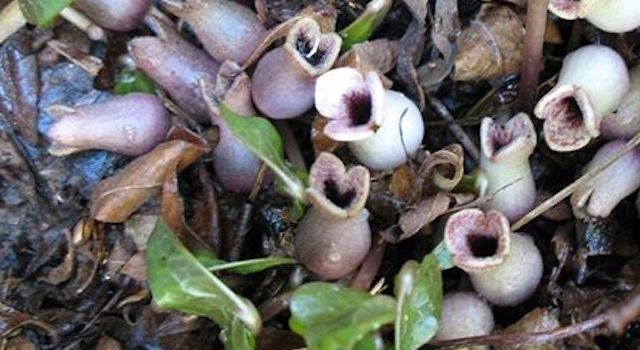 Little brown jug, also known as false ginger, resembles the wild ginger plant, but can be distinguished by its leathery, evergreen leaves. Much like the wild ginger, the leaves of this plant emit a faint ginger scent when crushed. This plant grows on wooded slopes at elevations below 3000 feet. Early in the spring, this plant produces fleshy, jug-shaped calyx (flowers without petals). These unique jugs are at ground level and are purplish-brown in color.
Trout Lily – Erythronium Americanum – (Lily Family)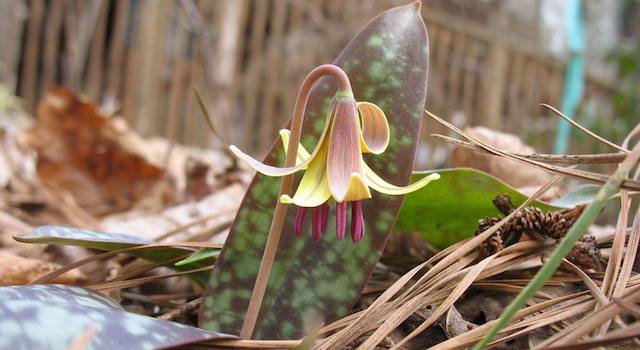 The trout lily grows near stream banks, shady or moist areas, and bears a bright yellow flower. The mottling of the leaves of the trout lily resembles the skin of the speckled trout swimming in mountain streams. The Cherokee people regarded the flowering season of this lily as the time to fish for trout.
Lady's-Slipper – Cypripedium – (Orchid Family)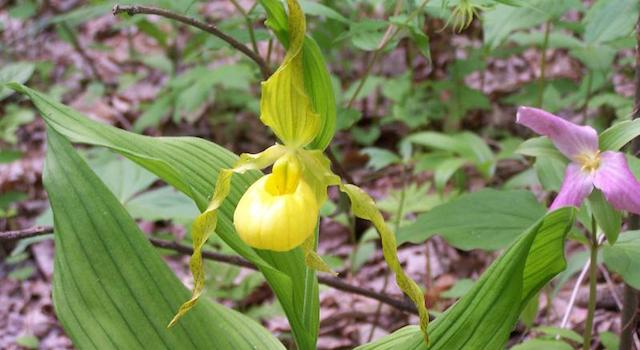 Hickory Nut Gorge is home to two varieties of the lady's slipper; the Pink Lady's slipper, and the endangered Yellow Lady's slipper. Lady's-slippers (also known as Moccasin Flowers) have a symbiotic relationship with a fungus that is crucial for their survival. This plant has only two green leaves that branch out from the center of the plant. A single flower stalk grows from the center and bears a single graceful flower that resembles a moccasin.
Anemone – Anemone Lancifolia – (Buttercup Family)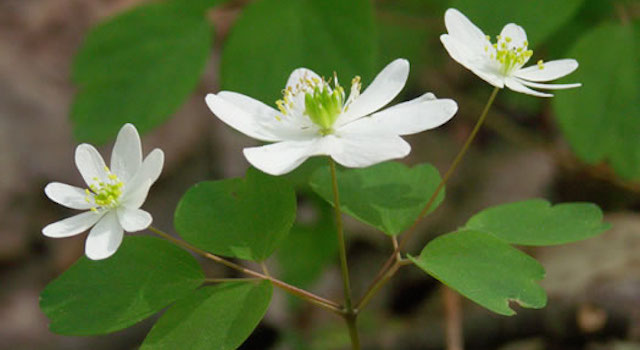 Hickory Nut Gorge is home to two native varieties of anemone, the Wood Anemone and Rue Anemone. Tiny, delicate, white to pinkish flowers of the anemone explode in early spring like bright stars on the dark forest floor. This small plant is frail and dainty, and dances constantly in the slightest wind.
Fire Pink – Silene Virginica – (Pink Family)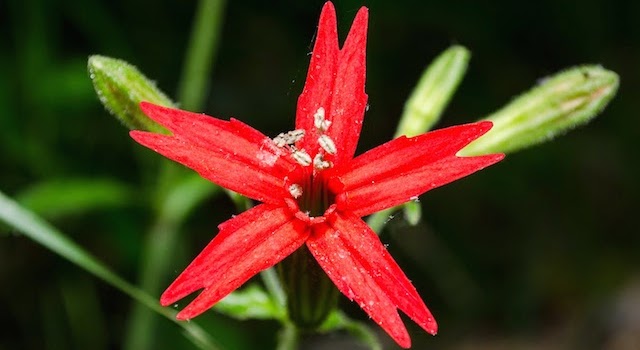 The fire pink is one of the easiest spring ephemerals to spot. It grows about a foot tall and bears a scarlet flower. Five long, radiant, petals adorn this flower, and each petal has a tiny notch at the end. The petals lead down to a long tube that contains the pistil and stamens. The tube-like shape of the flower requires a pollinator with a long tongue or proboscis. Hummingbirds are the most important pollinator of the fire pinks. The fire pink prefers open woods and rocky slopes. Its flowers may bloom into early summer.
About The Author –  Sara Shea
(Visited 2,381 times, 1 visits today)