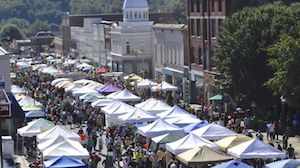 The Annual Mountain Glory Festival will celebrate the arrival of autumn in beautiful downtown Marion, North Carolina.
The Mountain Glory Festival Marion, NC covers the courthouse lawn and 3 blocks of downtown. More than 125 artists, crafters, and food booths and a variety of entertainment, from local bluegrass bands playing traditional mountain music to haunting melodies of Native American music, will fill the streets.
Beside mainstays of music and craft, the Mountain Glory Festival offers glimpses into local and regional pastimes, such as the Mountain Glory Craft Show, foot races and 3 stages of area talent.
See the official event website for full details on all the fun!
(Visited 1,008 times, 1 visits today)