Welcome to Around Lake Lure!
We are an independent, locally-owned 'Insider's Guide' to the hottest places, hidden treasures and best-kept secret spots in Lake Lure, NC and the neighboring mountain towns around Lake Lure.
We share fun things to do that will help you enjoy this Crazy Good Place — hiking trail guides that will inspire you, events that will make every day a fun day, and our favorite spots to eat, drink, play, and stay.
We keep you connected to this place that we all love.
It's a happy place. A fun place. A favorite place … a Crazy Good Place!
Welcome to our Crazy Good Place! We call it home.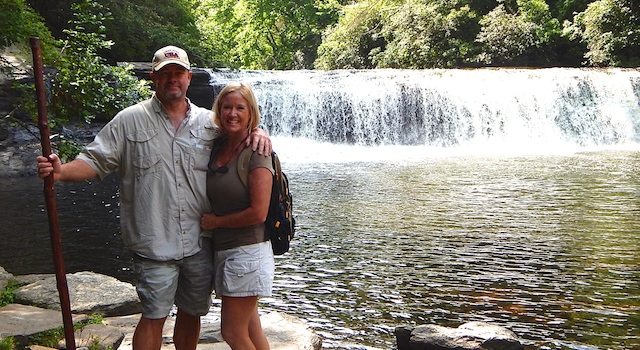 What Makes Lake Lure Such a Crazy Good Place?
The epic scenery, pristine lake, and unrivaled beauty of the area captivate you immediately and make this a nature lovers paradise. Breathtaking features include a sharply rising shoreline, rounded peaks, a rushing river, and gorgeous granite outcroppings.
Not to mention …
14 rare animal species call the Hickory Nut Gorge area home
14.8 square miles of scenic wonder known as Lake Lure
24 miles of stunning shoreline
Miles and miles and miles of trails
37 rare plant species can be found in the Hickory Nut Gorge area
75-mile views from Chimney Rock at Chimney Rock Park
800 acre Lake Lure
1000's of acres of dense green forests and majestic blue mountains
1200 people permanently call it home
Interested in Knowing More About Around Lake Lure
AroundLakeLure.com is More than a Website – It's a Brand that Celebrates the Lake Lifestyle!
Free Around Lake Lure "Crazy Good Place" Stickers – Now Available
Our Story
So how did we get to call this great place home and what's the story behind this website?
The short answer is … loss.
Sudden, shocking, turn-your-world-upside-down kinda loss. The kind that makes you realize how short and precious life is. We were reminded of this loss several times within a few very short months and decided to make a crazy (but good) change and leave our big jobs in the big city and embrace life again.
So, here we are. Livin' and lovin' life!
Every. Single. Day.
Thus the creation of this happy little website called Around Lake Lure — where we share that good vibe and fun-feeling and bring people together to celebrate the lake lifestyle … and well, just celebrate life itself!
We're sharing the fun we have, the places we love, and what makes this little hidden gem of a place … such a Crazy Good Place!
We share our experiences – trails we hike, waterfalls that take our breath away, fun festivals and big events, great restaurants, cool breweries, and pet-friendly places we love. All the best kept secrets and things locals love – the best little dives, shopping spots, and places off the beaten path.
Our hope is that AroundLakeLure.com aids in your life adventures and helps you discover this amazing place we get to call home. And, if you're one of the lucky ones that live here … well, then we hope we help you discover even more things to fall in love with.
Remember to live every day. Even if it's just little bits and pieces of a day.
And remember to celebrate the wonderful lake lifestyle in this Crazy Good Place called Lake Lure!
Get to Know Us A Little Bit More …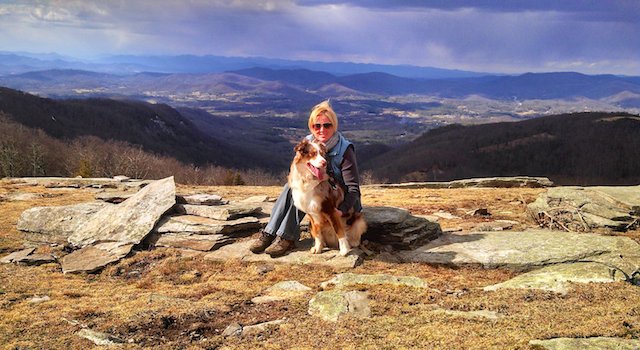 We are outdoor enthusiasts, avid adventurers, and dog lovers at heart. Favorite pastimes include walking, hiking, biking, kayaking, zip-lining, white water rafting, and we've even been known to jump out of perfectly good airplanes. We love exploring everything from state parks to trails off the beaten path and our dogs are always with us.
Quickly we immersed ourselves in this amazing place and became active volunteers. We have been Trail Monitors for The Nature Conservancy, Mountains Office in North Carolina where we helped maintain the conservation land for the Bat Cave Preserve. Other volunteer efforts include The Olympiad, we have been past members of The Rumbling Bald Dragon Boat Race Team, and assist with the Lake Lure Arts & Crafts Festivals. We attend Town Council Meetings and also volunteer with Hickory Nut Gorge Outreach. Oh … and I'm a member of The Lake Lure Cloggers, a recreational clogging group that performs at local festivals, charity events, and senior centers. Kind of funny … for a girl who thought cloggers wore wooden shoes.
Enjoy this beautiful place!
(Visited 1,827 times, 1 visits today)