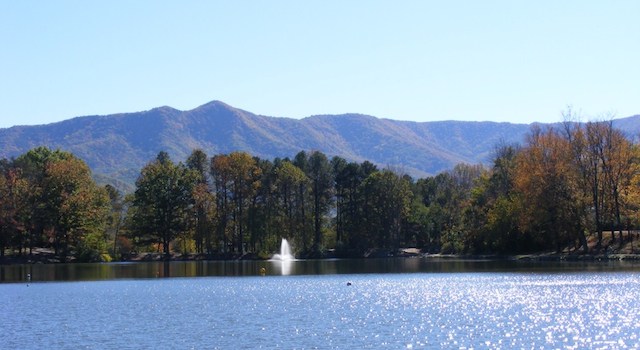 Black Mountain Geography
Black Mountain is aptly named as it sits at the base of the southern end of the Black Mountain Range – home of Mt. Mitchell (6684 ft.) – the tallest peak east of the Mississippi. The range, hence the town, received its name by virtue of the very dark appearance of the mountain peaks during the late afternoon hours. To the south of town are the Swannanoa Mountains with peaks well over 4000 feet. The Town itself sits at an elevation of 2405 feet and is surrounded by these tall peaks. Unlike most mountain towns, these peaks can be seen from all around town making Black Mountain visually stunning. The many creeks and streams that run from the surrounding mountains converge just outside of town to create the Swannanoa River – a major tributary to the French Broad River just 22 miles away.
Points of Interest in Black Mountain, NC
Downtown Black Mountain – Great shops and great restaurants, in a beautiful setting. You'll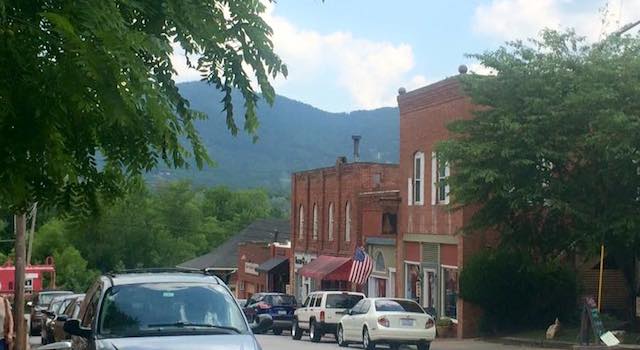 Brewery Tours – Black Mountain is home to two wonderful craft breweries – Lookout Brewing Company which is a nano brewery (small bath brewery) and Pisgah Brewing Company which is a personal favorite – brewing up amazing beer and hosting great bands on their outdoor stage. Both have tasting areas, outdoor areas with games and friendly staff who will inform you about their brews.
Lake Tomahawk – take a stroll around Lake Tomahawk to really take in the beauty of the area
Museums – Visit the Swannanoa Valley Museum to get a taste of the history of the area and/or visit the Black Mountain Center for the Arts to see local art displays and performing arts
Straightaway Café & Pub – Like hanging out with the locals – head up route 9 a couple of miles past the Eastern Continental Divide sign, and hang out at the coolest mountain eating establishment you may ever find – great food, 22 taps (most with local brews), outdoor games and entertainment.
Annual Events
Black Mountain Arts and Crafts Show – weekend following Memorial Day – over 65 artists/crafters displaying and selling their work – food and drink available
Sourwood Festival – Second Saturday and Sunday in August – Celebrating the wonderful sourwood honey harvested throughout the area – almost 200 arts and crafts venders, music, dance, rides and games for the kids – fun for all!!!
The Black Mountain NC Community
Over the years, Black Mountain has become a very popular tourist destination. People are attracted to the town's picturesque setting, friendly residents, quaint shops and excellent eating establishments. When in town, you will notice a recurring name – "Seven Sisters". The "sisters" are not people, but are the 3 ½ mile long stretch of seven mountain peaks prominently visible from almost anywhere in town. While visiting, you will also notice numerous beautifully hand-painted rocking chairs around town – feel free to relax in one. Black Mountain was previously referred to as "the front porch of Western North Carolina" but has recently been rebranded by the Chamber as "the little town that Rocks" – hence Rocking Chairs. These chairs are auctioned each October and new rockers take their place.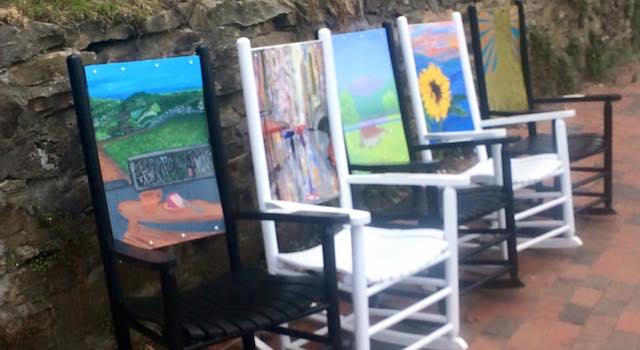 Demographic and Housing Information
Population of full-time residents: 8080
Median age: 47.9
Gender: 48.7% Male 51.3% Female
Median Household Income: $41,729
Average Household Income: $57,830
Median Home Value: $173,664
Average Home Value: $249,980
Owner Occupied Housing Units: 52.7% 3843 homes
Renter Occupied Housing Units: 27.6% 2011 homes
Vacant Housing units: 19.7% 1436 homes (include vacation rentals and second homes)
Source: Hometownlocator.com – June 1, 2015
History
As with many towns in the western Carolinas, the Cherokees were the first known inhabitants of the area. Shortly after the Revolutionary War, Samuel Winslow Davidson came to settle in the area of Black Mountain. Slowly, more and more white settlers arrived driving the Cherokee out. The population of Black Mountain increased significantly in 1850 with the completion of the first road from Marion and again in 1879 with the completion of the first railroad. Black Mountain has been home to several celebrities to include singer Roberta Flack, actor Matt Lutz, pro football quarterback Brad Johnson and pro basketball player Brad Dougherty.
For More Information on Black Mountain NC, Check Out Our – Black Mountain Posts
(Visited 3,257 times, 1 visits today)