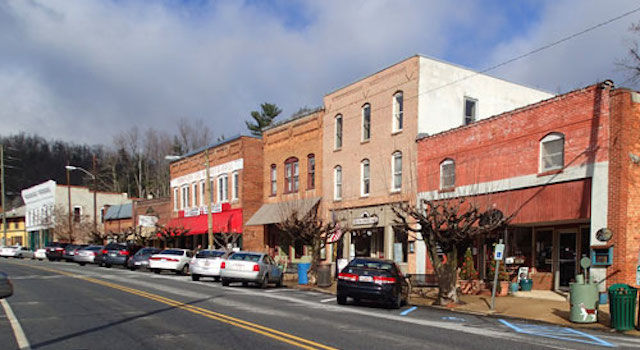 Saluda. A hidden gem. Peaceful tranquility, long hikes, beautiful waterfalls off the beaten path, old fashioned fun and fresh mountain air.
Saluda Geography
Saluda, NC sits at an altitude of 2100 feet and is located at the northeast end of the Saluda Range. Blake's Peak, just outside of Saluda, has an elevation of 2385 feet, but there are a number of peaks in the range with elevations over 3000 feet: Grassy Top (3258 ft.), Standingstone (3209 ft.), Hogback (3130 ft.), Pruett (3022 ft.). The topography and lush vegetation in the area makes for a very enjoyable drive on State Rd. 176 / Spartanburg Hwy to and from Saluda. Lake Summit and the Green River Gorge are just a few minutes outside of Saluda and offer numerous outdoor activities, including kayaking, whitewater kayaking, tubing, mountain biking and hiking. There are also several spectacular waterfalls in the area that can be viewed following a short hike.
Points of Interest in Saluda, NC
Historic Downtown Saluda – There are numerous art galleries in the historic downtown that display the works of local artists. Enjoy boutiques, restaurants, area craft beers and coffee shops.
Pearson's Falls – This 268-acre park is owned and maintained by the Tryon Garden Club (non-profit). A quarter-mile trail leads to the beautiful 90-foot waterfall. Lush vegetation abounds. Admission: 13+ $5.00, 6-12 $1, under 6 free
Green River Gorge – Visit the Green River Gorge and have fun tubing, kayaking, hiking or zip-lining through the mountains.
Big Bradley Falls & Little Bradley Falls – An off-the-beaten-path hike to two spectacular waterfalls. No charge – roadside parking
Annual Events in Saluda, NC
Saluda Arts Festival – 2nd or 3rd Saturday in May – Nearly 100 artisans exhibiting and selling their wares – Live music, balloon artists, stilt walkers – Children's Art Tent
Coon Dog Day Festival – "A celebration for dogs and their people" – A parade followed by live music, crafts, great food, street dance and much more
The Saluda NC Community
Town leaders have recently branded the town of Saluda to create an outward identity based on its residents, history, and culture. It has also created a new town logo to help project the town into the future. These projects are aimed at creating a unified effort to bring the town together, attract new residents and businesses, and attract more tourists to the area. While many would love to see a tourist excursion train arrive in Saluda, it appears that the more time elapses the less likely it will happen. Vegetation and washouts are creating a cost-prohibitive environment, making the return of trains to Saluda unlikely.
Demographic and Housing Information
Population of full-time residents: 741
Median age: 57.5
Gender: 43.3% Male 56.7% Female
Median Household Income: $45,600
Average Household Income: $57,318
Median Home Value: $202,155
Average Home Value: $218,972
Owner Occupied Housing Units: 49% 254 homes
Renter Occupied Housing Units: 13.5% 70 homes
Vacant Housing units: 37.5% 194 homes (include vacation rentals and second homes)
*Source: Hometownlocator.com – June 1, 2015
History of Saluda, North Carolina
Prior to 1881, Saluda was actually called Pace's Gap. It was a very small town made up of traders and livestock owners. But, as with many of the towns in the area, the population began to boom when the Southern Railroad line went through in the late 1870s. The "Saluda Grade" – the steepest mainline standard gauge grade of rail track in the US – was completed in 1879 and Pace's Gap bustled. In early 1881, the town had grown so much that residents decided to acquire a town charter and change the name of the town to Saluda, for the Saluda Mountain Range. The original name "Saluda" came from the name of a Cherokee Indian Chief whose name meant "Corn River."
Having the distinction of being the country's steepest grade railroad track does not come without its problems. In the early days of the "Saluda Grade," it was not uncommon to have runaway trains jump the track on the downhill decent. By 1903, 27 lives had been lost on this three-mile stretch of track. Two safety spurs were created to aid in alleviating the runaway train problem. As railway technology improved, so did the safety of this stretch of track. The last freight train went through Saluda in December of 2001. There have been talks of creating a short-range passenger excursion train through this scenic "Saluda Grade," but as of now it appears no headway has been made in the efforts.
Today, Saluda is a peaceful town, home to many artists and craftspeople.
For More Information on Saluda NC, Check Out Our – Saluda Posts
(Visited 3,387 times, 1 visits today)