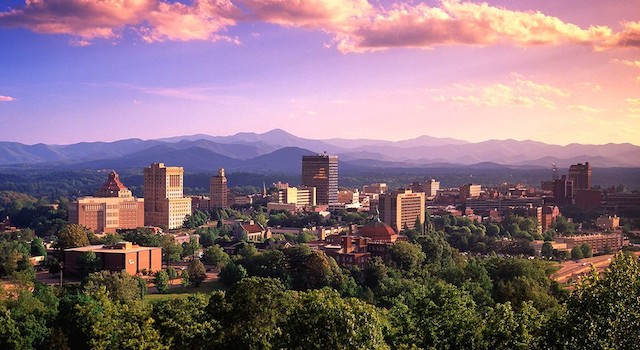 Stunning scenery, hippie chic, culinary cool, craft beer mecca — Asheville, NC has an unmistakeable and unique mountain vibe you won't want to miss!
Asheville Geography
Asheville sits at an elevation of 2216 ft. above sea level on a plateau of the Blue Ridge Mountains where the French Broad River and Swannanoa River meet. Asheville's altitude lends it to noticeably cooler temperatures in the summer but only slightly cooler temperatures in winter than areas just 50 miles east. Some of the tallest peaks east of the Mississippi River are located just outside of Asheville along the Blue Ridge Parkway, including Mt. Mitchell, which is the tallest mountain east of the Mississippi at 6684 feet. Other notable peaks along this route of the Black Mountains include Mt. Gibbs (6571 ft.), Big Tom (6568 ft.), and Cattail Peak (6512 ft.). The French Broad River, on Asheville's west side, is the 3rd oldest river in the world – behind the Nile River and New River – and is older than the mountains that surround it.
Points of Interest in Asheville, NC
Downtown Asheville – Great shops, art galleries, specialty stores, restaurants, and don't forget the craft breweries – just an overall cool town
Blue Ridge Parkway – Breathtaking views of the tallest peaks east of the Mississippi – exceptionally spectacular during the fall foliage color change
Biltmore Estate – The most incredible home in the U.S. with exquisite furnishings, gardens, hiking and biking trails and much more
Craft Beer Tours – Named "Beer City USA", Asheville boasts more breweries per capita than any US city. Take a tour, do a downtown pub-crawl and don't miss some of the most notable craft breweries that are not in the downtown area. Some of these should not be missed, including Highlands Brewing Co., French Broad Brewing, Pisgah Brewing, Lookout Brewing and Sierra Nevada Brewing
North Carolina Arboretum – Beautiful gardens, hiking trails, biking trails, and wildlife
Mount Mitchell State Park – Visit the tallest peak east of the Mississippi (6684 ft.), with hiking trails, a museum, an observation platform and a great restaurant. 35 minutes up the Blue Ridge Parkway
Outdoor Adventures – Numerous companies around town offer canoe, kayak, rafting, paddle boarding and tubing trips on the French Broad River. You can rent mountain bikes or street bikes, and zip-line through the mountains at one of several locations
Hot Air Ballooning over Asheville – Could there be a better way to see the beauty of the Asheville area? Probably not! Three or four companies offer tours – call one and have a most memorable day!
So much to do we can't list it all!
Annual Events in Asheville
Asheville "Winter Warmer" Beer Festival – 4th Saturday in January – Craft brewers from Asheville, NC and the southeast come together for one of the biggest beer fests around. Food and music, of course!
Asheville Fringe Arts Festival – 3rd weekend in January – A true sign of the free-spirited and open-mindedness of the Asheville area – Performing artists "explore the edges of their work, to collaborate across genres and bring new and innovative performances to culturally adventurous audiences."
Asheville Mardi Gras – 1st Sunday in February – The zaniest parade you may ever see – Check for events that follow the parade!
Mountain Sports Festival – Each Memorial Day weekend – Running, biking, climbing, and many other sports events and activities over a 3-day period – Food, beer, and music – Fun for all ages!
Beer City Festival – Last Saturday in May – Asheville area brewers celebrate their craft with you. A full day of music and some of the best beers in the world – Show me the BEER!
Brewgrass Festival – 3rd Saturday in September – Over 50 craft brewers will be sampling their wares – 3 Bluegrass bands performing – Good times will be had by all – Oh, did we mention the BEER?!
Asheville Oktoberfest – 2nd Saturday in October – Beer, oompah bands and dancing – More than a dozen local breweries will offer their beers and several traditional German lagers. Wine will also be available – Oktoberfest Games such as the "stein race" and "keg-roll" will also take place.
The Asheville NC Community
In the last 10-15 years, Asheville has become a cultural melting pot. Artists, crafters, musicians, and free-spirits of all sorts have flocked to Asheville for its beauty, climate and open-mindedness. These factors have also made Asheville a very popular tourist destination. If the town continues to promote the free-spirited mentality that currently exists, prosperity should continue for years to come.
Demographic and Housing Information
Population of full-time residents: 89,426
Median age: 37.9
Gender: 47.3% Male 52.7% Female
Median Household Income: $39,257
Average Household Income: $58,442
Median Home Value: $227,058
Average Home Value: $297,109
Owner Occupied Housing Units: 44.0% 19,715 homes
Renter Occupied Housing Units: 46.2% 20,692 homes
Vacant Housing units: 9.9% 4,416 homes (includes vacation rentals and second homes)
Source: Hometownlocator.com – June 1, 2015
History of Asheville, North Carolina
In 1790, the first census of the United States was taken indicating that 1000 people (excluding Cherokee Native Americans) resided in the small town then known as "Morristown." Seven years later, the town was incorporated and renamed Asheville in honor of the sitting governor of North Carolina. Railroads reached Asheville in 1879, ushering in a steady inflow of new residents, merchants and industries (textiles, wood, mica).
In 1888, George Washington Vanderbilt – one heir to Cornelius Vanderbilt's shipping and railroad empire – visited Asheville with his mother and fell in love with the area. In 1889, the 27-year-old Vanderbilt began construction of "Biltmore" – the largest privately owned house in the U.S.
By the 1920s, Asheville was the third largest city in the state after Charlotte and Wilmington. Asheville saw a period of economic decline in the 1970s and early '80s. But by the 1990s, new investment in the downtown area began to take hold.
In 1994, Highland Brewing Company opened its doors and led the way to Asheville becoming the "Craft Brew Capital of the U.S." Today there are over 20 craft brewers in the Asheville area with more coming all the time.
For More Information on Asheville NC, Check Out Our – Asheville Posts
(Visited 2,187 times, 1 visits today)