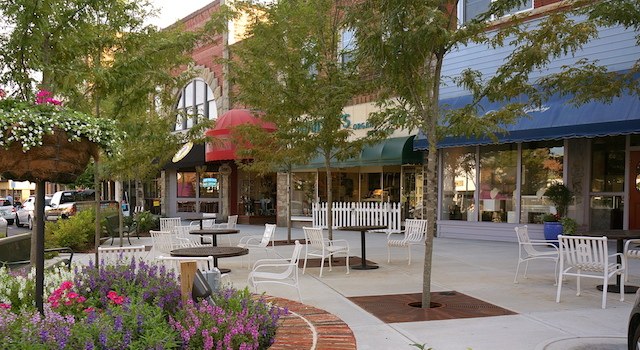 This culturally vibrant town and historic downtown area are rich with history and wonderful, quaint charm.
Hendersonville Geography
Hendersonville, NC sits at 2152 feet above sea level and lies just west of the Eastern Continental Divide. Just outside of town, along the Eastern Continental Divide, is where you will find some of the tallest peaks in the area: Little Pisgah (4412 ft.), Bearwallow (4232 ft.), and Little Bearwallow (3980 ft.). Two protected forests, Pisgah National Forest and Dupont State Forest, lie just outside of town. Both state forests provide visitors with beautiful mountain views, waterfalls and miles of hiking and biking trails. The climate and elevation around Hendersonville provides excellent conditions for apple orchards, and have resulted in Henderson County, NC being ranked number 7 in the U.S. for apple growing.
Points of Interest in Hendersonville, NC
Historic Downtown Hendersonville – Great shopping, art galleries, restaurants and lots of music. Don't miss the Summer Concert Series and be sure to check out the Hendersonville Bears Community Art Project (finely painted, fiberglass bears up and down Main Street).
Visit the Vineyards – Burntshirt Vinyards and Saint Paul Mountain Vineyards are both located on the east side of town.
Visit Hendersonville's Craft Breweries – Southern Appalachian Brewing and soon-to-open Sanctuary Brewing Company are both not far from Main Street. The new Sierra Nevada Brewing facility is just north of Hendersonville.
DuPont State Recreational Forest – Offers great hiking to several of the area's most beautiful waterfalls – a must see! Biking and horseback riding are also fun activities at the park.
For more information,readadditional stories on our website:
Pisgah National Forest – Another great place to encounter nature! Looking Glass Falls and all the kids' favorite, Sliding Rock Falls, reside in this forest. Great hiking, camping and scenic drives
A Day at the Museums – Or maybe a week – Hendersonville has a bunch! Henderson County Heritage Museum, Historic Henderson County Courthouse, The Mineral and Lapidary Museum, Genealogical and Historical Society, Western NC Air Museum, Historic Johnson Farm, Historic Hendersonville Train Depot, Hendersonville City Hall and don't forget The Carl Sandburg House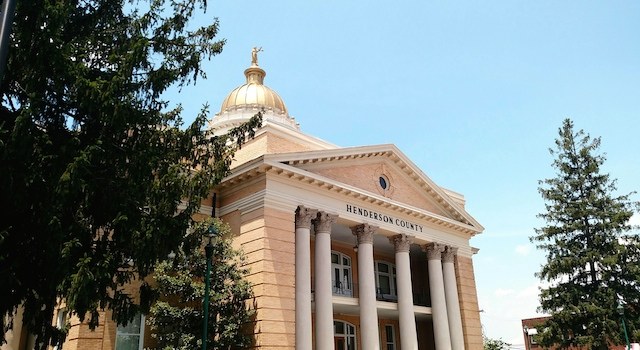 Annual Events in Hendersonville
Bearwallow Beast 5k Trail Run & Festival – First Saturday in May – Run to the top of Bearwallow Mountain, or just watch others run then follow them to the top for food, beer, live entertainment and great views – A really fun time!
Garden Jubilee Festival – 3rd weekend in May – One of the largest lawn and garden shows in western NC – More than 200 venders displaying and selling plants and garden accessories – Food and refreshment available
Mad Mountain Mud Run – Last Saturday in May – "It Don't Get Dirtier than This!" A muddy running course for those who got promoted from mud pies. Have fun running or just watch – A great festival follows.
North Carolina Apple Festival – Held annually over Labor Day weekend – Crafters, food venders, live entertainment and lots of apples — Have a wonderful time at one of NC's best festivals!
NC Mountain State Fair – Mid September, at the Western Carolina Agricultural Center
Art on Main Fine Art & Craft Festival – First weekend in October – Arts and crafts galore plus tons of food
Bearfootin' Art Auction – 3rd Saturday in October – Many of Main Street's bears will be for sale to the highest bidder. All proceeds go to non-profits and arts in downtown.
Demographic and Housing Information
Population of full-time residents: 13,633
Median age: 48.7
Gender: 45.2% Male 54.8% Female
Median Household Income: $37,771
Average Household Income: $50,893
Median Home Value: $170,885
Average Home Value: $196,064
Owner Occupied Housing Units: 43.4% 3506 homes
Renter Occupied Housing Units: 39.9% 3225 homes
Vacant Housing units: 16.7% 1347 homes (includes vacation rentals and second homes)
Source: Hometownlocator.com – June 1, 2015
History of Hendersonville, North Carolina
Hendersonville, like Henderson County, was named after the Chief Justice of the State Supreme Court, Judge Leonard Henderson, who served from 1829-1833. Hendersonville received its official town charter in 1847. Hendersonville was another town that grew extensively as a result of the Southern Railway completion in 1879. Once transportation up the mountains became easy, many wealthy residents from South Carolina's low country came to Hendersonville in the summer to escape the heat and insects. Hendersonville has prospered from its tourist industry ever since those early days of the railroad.
Hendersonville's apple history can be traced back to the 1790s, when William Mills began planting apple trees by the hundreds in the area now known as Fruitland. Before long, Mills's success growing apples convinced nearby neighbors to follow his lead. Now, hillsides all around Hendersonville are covered with apple orchards.
Over the years, Hendersonville has been home to many notable residents. Carl Sandburg (poet, writer, editor and Lincoln biographer and winner of two Pulitzer prizes) is amongst the most notable. In 1945, Sandburg and his family moved to a 30-acre farm in the Hendersonville area, where he spent the last 22 years of his life. Today, the property is a National Historic Site and hosts more than 26,000 visitors a year. Other notable residents include Buffalo Bob Smith (host of TVs Howdy Doody), Jim Lampley (sportscaster, news anchor), Kelly McGillis (actress, Top Gun), Mickey Marvin (Raiders football player; Super Bowl XV and XVIII winner), Sam Gash (Patriots, Bills, Ravens football player; Super Bowl XXXV winner; coach) and others.
For More Information on Hendersonville NC Check Out Our – Hendersonville Posts
(Visited 3,138 times, 1 visits today)