Cradled against a backdrop of soaring mountain-ranges splashed with vibrant waves of Appalachian wildflowers and carpeted by sweeping valleys of lush greenery is the serene town of Lake Lure, NC in Rutherford County.
Lake Lure's namesake 720-acre lake is fed by serpentine tributaries running from the Rocky Broad River down through spectacular Hickory Nut Gorge, creating numerous bays and inlets, making Lake Lure a destination for nature-lovers and water-sport fans. Its beauty is so renowned that Lake Lure served as a picturesque setting for several hit movies, including Dirty Dancing and The Last of the Mohicans.
Lake Lure lies within a thermal belt that keeps its temperatures cooler in summer and warmer in winter than other regional towns and cities. This makes it perfect for outdoor activities like hiking, horseback riding, boating, fishing, and golfing on the area's three world-class golf courses. It is approximately 20 minutes from the Tryon Equestrian Center, 25 miles southeast of Asheville, and about 1.5 hours north of Greenville, South Carolina, making Lake Lure easily accessible to big city restaurants, conveniences, and entertainment, but removed enough to retain its ambiance of restful seclusion.
Lake Lure, NC Geography
Lake Lure, NC is 14.8 square miles of scenic wonder. It is nestled approximately 28 miles southeast of Asheville, NC at the base of the Hickory Nut Gorge — where the Rocky Broad River and its tributaries empty into beautiful Lake Lure. The Hickory Nut Gorge area of Western North Carolina is home to 37 rare plant species and 14 rare animal species, making it a nature lover's paradise. Breathtaking features include a sharply rising shoreline, rounded peaks, a rushing river, and gorgeous granite outcroppings.
The shoreline of Lake Lure is approximately 24 miles. The town center sits at an elevation of 1000 feet and is surrounded on three sides by several 3000-4000 ft. peaks. These peaks include Rumbling Bald Mountain at 3020 ft., Shumont Mountain at 3839 ft., Bearwallow Mountain at 4232 ft., Chimney Rock Mountain at 3000 ft., and Sugar Loaf Mountain at 4000 ft. A combination of lake and exposed granite mountain views make the area visually spectacular – wow!
Points of Interest in Lake Lure
Lake Lure – Kayak, rent a boat or take a tour boat to see the wonders nature has provided from a lake level perspective.
Chimney Rock Park – Hike to see the area from an elevated perspective. Explore Hickory Nut Falls and numerous other points of interest within the park.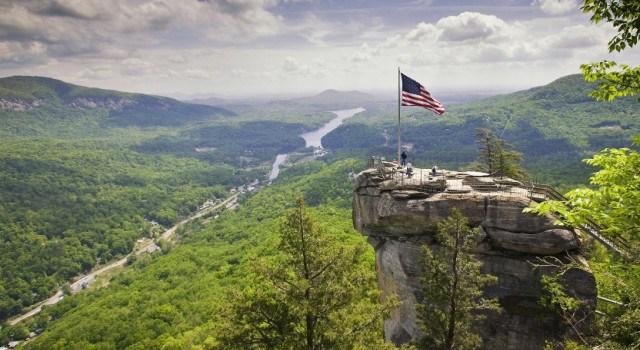 Chimney Rock Village – Enjoy some shopping once you have completed your adventure.
Chimney Rock Park: Rumbling Bald Climbing Access – If you are a climber or enjoy bouldering, you already know this park as one of the best in the country, but it's also a great park to hike. Trails take you to hundreds of rock formations at the base of Rumbling Bald Mountain.
For more information, read additional stories on our website:
Dittmer Watts Nature Trail Park – This is a great walking trail system that is perfect for people, kids, and dogs of all ages. Enjoy over 3-miles of well-maintained, looped natural trails that vary in difficulty. Leisurely explore nature and the beautiful surroundings of this woodland hiking experience.
Flowering Bridge – Lake Lure's historic bridge has been repurposed. A group of local master gardeners has turned the bridge into a lush paradise. A must-see for all you green thumbs.
Lake Lure Beach – Open from Memorial Day through Labor Day, the beach gives everyone a chance to cool off during the summer months with a water slide and various other fun to get you wet.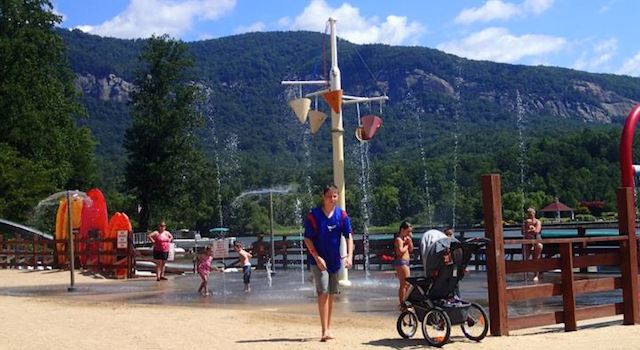 Morse Park and Washburn Marina – Take a stroll along the lakeshore and observe all the beauty the area provides. Or take a tour on a pontoon boat that leaves from the marina and see the million-dollar views.
For more information, read more stories on our website:
Buffalo Creek Multi-Use Park (Hiking and Biking) – If hiking or biking is your thing, this park provides you with some of the best the area has to offer.
For more information, read more stories on our website:
Annual Events in Lake Lure, NC
Spring Lake Lure Arts and Crafts Festival – The Spring Festival occurs at the end of May over Memorial Day Weekend (Saturday – Monday) includes over 100 crafters and food and entertainment are also part of the festival.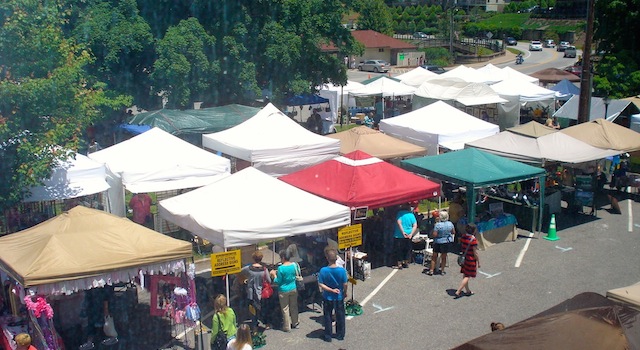 4th of July Fireworks Display – Two Independence Day fireworks shows occur on the lake to celebrate the 4th! The first takes place on the 3rd of July at Morse Park and is open to the public. The second occurs on the 4th at the Rumbling Bald Resort.  The Resort fireworks can be viewed from within the Resort by guests and members only and they can be viewed by the general public by boat from the lake and other vantage points.
Lake Lure Olympiad – Another Mid-August event. Hundreds of swimmers, runners, cyclists, and golfers come from near and far to compete on and around Lake Lure. There are even junior Olympiad events.
Dirty Dancing Festival – Come to Lake Lure Mid-September and get your dirty dance on in celebration of the movie Dirty Dancing, which was filmed at Lake Lure. Take dance lessons, dance to live music, or just enjoy everyone else doing their thing. There is even an outdoor, nighttime showing (on a huge screen) of the movie.
Fall Lake Lure Arts and Crafts Festival – The Fall Festival occurs mid-October with over 100 crafters from around the country and food and entertainment are also part of the festival.
The Lake Lure, NC Community
Lake Lure, NC community is home to fewer than 1200 permanent residents. Many of the residents are artists, academics, and nature enthusiasts who have abandoned the chaos, crowding, and pollution of big city living to embrace a simpler, more authentic lifestyle.
Lake Lure carefully protects its hometown simplicity, tranquility, and beauty and is an exceptionally clean, quiet, and peaceful place to have a permanent residence or a vacation home.  The housing choices are as splendid and varied as the people who live here. From cozy cabins to opulent lakeside retreats, Lake Lure is the ideal place for a more peaceful and relaxed life.
The town of Lake Lure implemented an aggressive plan to make the town much more self-sufficient. In 2005, the town opened its first and only full-service grocery store – Ingles. Fall of 2010, the town officially opened its first school, The Lake Lure Classical Academy.
In the Fall of 2015, the K-12 charter school moved to a beautiful, new, permanent location. In the fall of 2014, the town celebrated the opening of the Lake Lure Medical Center.
Demographic and Housing Information for Lake Lure
The population of full-time residents: 1250
Median age: 62.4
Gender: 49.2% Male 50.8% Female
Median Household Income: $49,124
Average Household Income: $66,717
Median Home Value: $289,796
Average Home Value: $399,561
Owner Occupied Housing Units: 22.2% 509 homes
Renter Occupied Housing Units: 5.5% 126 homes
Vacant Housing units: 72.3% 1659 homes (include vacation rentals and second homes)
*Source: Hometownlocator.com – June 1, 2015
History of Lake Lure, North Carolina
In 1925, Dr. Lucius B. Morse and his family began construction of the dam that is located on the east end of Lake Lure. His intention was to create a beautiful lakefront community. The dam was completed in 1927 along with the 1927 Lake Lure Inn and Spa. Unfortunately, before very much development was completed, the Stock Market crash of 1929 plunged the country into the Great Depression. This halted the grand plan. The area is a popular tourist destination and has hosted such famous people as President Calvin Coolidge, President Franklin D. Roosevelt, Emily Post, and F. Scott Fitzgerald. The scenic beauty of the area has enticed filmmakers to shoot numerous movies in and around Lake Lure such as  Firestarter, Thunder Road, My Fellow Americans, A Breed Apart, Dirty Dancing, and Last of the Mohicans.
For More Information on Lake Lure NC, Check Out Our – Lake Lure Posts
For More Information on Neighboring Chimney Rock, NC – Check Out Our Chimney Rock Posts
(Visited 8,704 times, 1 visits today)