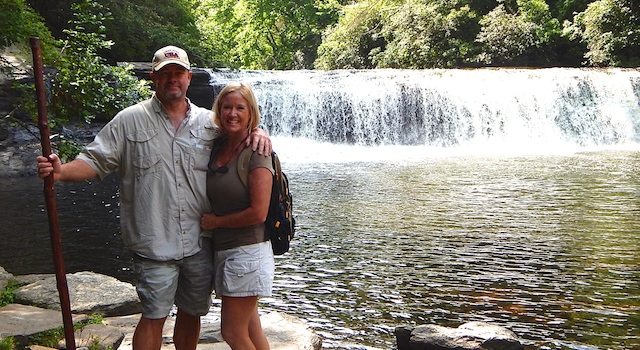 Detailed Trail Review: DuPont State Forest Waterfalls Trail Hike – Hooker Falls, Triple Falls, and High Falls — a trifecta of falls near Lake Lure NC!
Park Highlights: WOW! Absolutely stunning. I can't believe it took us this long to discover DuPont State Forest. The park is an amazing masterpiece of nature. The 10,400+ acre forest has four major waterfalls on the Little River – Hooker Falls, Triple Falls, High Falls, and Bridal Veil Falls. They are magnificent. There are five lakes within the forest, the largest is 99-acre Lake Julia. There is also an extensive trail system covering 82 miles of trails and roads for hiking, biking, and horseback riding. On our recent hike, we also saw Llamas on the trails.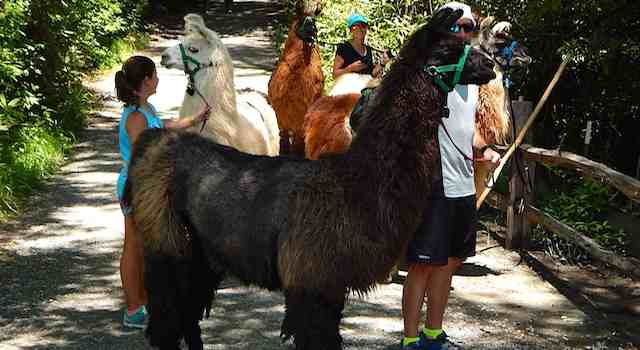 DuPont State Forest is impeccably maintained by the NC Forest Service. The elevations range from 2,240 feet at Cascade Lake to 3,620 feet at the peak of Stone Mountain. At many vantage points throughout the forest, the surrounding area felt more like we were somewhere in the Rockies with the massive waterfalls, granite slabs, huge rock outcroppings, and hardwood timbers. This is a must-visit destination that is great for people of all ages and hikers of all skill sets. It is also very pet friendly. However, since it is a state park, dogs must be on a leash. Oh, and all this natural wonder and beauty is absolutely FREE!
Location: 1400 Staton Road, Cedar Mountain, NC 28718 – DuPont State Recreational Forest is located in Henderson and Transylvania Counties between the towns of Hendersonville and Brevard, NC.
Approximate Driving Time from Lake Lure NC Town Center: 1 hour
Map & Directions: From Lake Lure NC town center, head West on US-64/US-74-A for about 4 miles. Turn left on US-64 to Hendersonville and continue for 14 miles. Turn left on Church Street and in 6 blocks turn right on Kanuga Road. Continue on Kanuga Road for 4 miles and it will turn into Crab Creek Road. Travel 7 miles and you will see the brown DuPont State Forest Park signs signaling you to turn left onto DuPont Road. After about a mile, Dupont Road turns into Staton Road. Travel 3 miles and you will arrive at the parking area by Hooker Falls.
DuPont State Forest Waterfalls – Hooker Falls, Triple Falls, and High Falls Trail Details:
Hiking Distance (round trip): Approximately 6 miles for the waterfalls trail hike
We hiked Hooker Falls to Triple Falls and then went on to High Falls and we explored both the upper and lower viewing areas for all falls which is highly recommended. Then we continued on to the Covered Bridge which added a bit more trial time but was well worth it. From there we headed back along the same main trail back to the parking area at Hooker Falls. To see Bridal Veil Falls we would have opted to drive to that parking area, but the gang was pooped.
Map for Waterfalls in DuPont State Forest: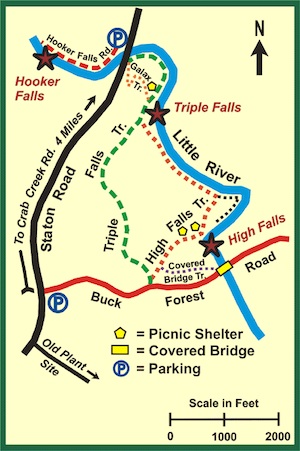 Hiking Time: 3 to 3-1/2 hours depending on how long you stop to enjoy the falls, take pictures, etc. We were just at 3-1/2 hours and spent a nice amount of time at each fall and took tons of pictures.
Elevation: Min 2,178 ft / Max 2,618 ft. Elevation ascent was 1200+ ft.
Difficulty: Easy to Moderate
Trail Condition Grade: A
A= Park like
B = Easily Identified, good footing
C = Easily Identified, bad footing some places
D = Difficult footing to identify, bad
Trail Challenges: The trails that we were on were all very well-built, well-marked, and well-maintained. They are nice and wide with limited to no rough spots or wash out. We even saw a few jogging strollers in use. While the falls can all safely and easily be viewed from afar, the challenges come in when going down to the lower level vantage points to get up close and view the waterfalls. Here you will encounter a lot of rock hopping and water crossings depending just how close you want to get. You can also climb up and around the falls. This gets even more dangerous as the footing is wet and slippery. Use extreme caution as this can be very dangerous.
Trail Etiquette: Since this is a multi-use park (hiking, biking, horseback riding) it is important to follow proper trail etiquette in terms of who has the right of way. The concept is that bikers are fast and can stop and go easily so they let everything else have the right of way. Horses are big and unpredictable so they get the right of way. In short:
Bikers yield to hikers and horses
Hikers yield to Horses
Dog Friendly: There were dogs everywhere! Big dogs, little dogs, and everything in between. The forest is very dog friendly in the sense of having great trails and lots of natural watering holes. Since this is a state park, all dogs are required to be on a leash. During our hike all dogs that we passed on the trails were on a leash, however, at the various waterfalls, we did see several off-leash romping in the water. I would not recommend this. Personally we keep our dogs on a leash at all times for their safety. Plus you could get hit with a hefty ticket from a park ranger if they see your dog off-leash. It's also important to note that there are no poop bag stations, so come ready to pick it up and carry it out as there are also no garbage cans.
Amenities: Public restrooms are located in the High Falls access area, but facilities are limited. There are portable toilets at the other access areas and at High Falls and Triple Falls. There are several wonderful picnic shelters located near the lakes and waterfalls. However, there are no garbage cans, so be ready to pack up your trash and carry it out. There are also no water fountains, so bring enough drinking water for both you and your pet.
Open Times: The DuPont Forest is open year-round, seven days a week to the public. Typically dawn to dusk.
Rating: 5 out of 5
5 of 5 = view at the destination, views during the hike, A or B trail conditions
4 of 5 = view at the destination, A, B or C trail conditions
3 of 5 = no spectacular views but interesting environment, A, B or C trail conditions
1 or 2 of 5 = not worthy of recognition
About the DuPont State Forest Waterfalls Trail Hike:
Hooker Falls: GPS: 35.201944 N / 82.623889 W
Park at the Hooker Falls access area on Staton Rd. Walk around the gate and along Hooker Falls Road 0.3 miles – heading left at the fork and traveling parallel to the Little River. Hooker Falls will appear on your left. This is one of the most popular and accessible waterfalls in DuPont Forest. The falls are at the site of a former grist mill, where the Little River drops off a 13-foot ledge falling into Cascade Lake.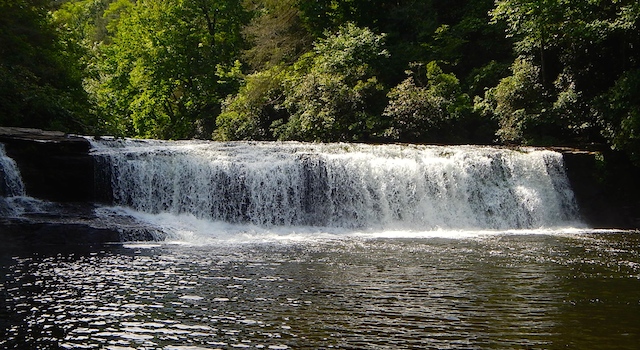 Triple Falls: GPS: 35.198889 N / 82.617500 W
From Hooker Falls, backtrack the way you came and cross over Staton Road and cross the bridge over the Little River. Take Triple Falls Trail (0.5 miles). The trail runs parallel to the river and you hike upstream. The trail bends to the right and ascends 1000 feet up a steep slope. Triple Falls is on the left.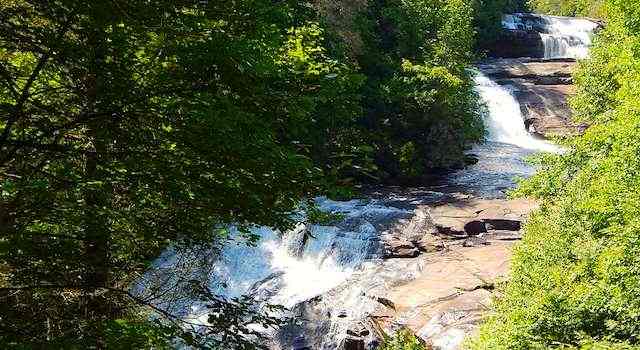 High Falls: GPS: 35.192778 N / 82.614444 W
From Triple Falls, High Falls is about a 15-minute walk/hike. Continue along the same trail until it intersects with High Falls Trail and then turn left. Walk parallel to the river about 2000 feet and turn right at the next intersection which is still High Falls Trail. Continue up the slope to High Falls.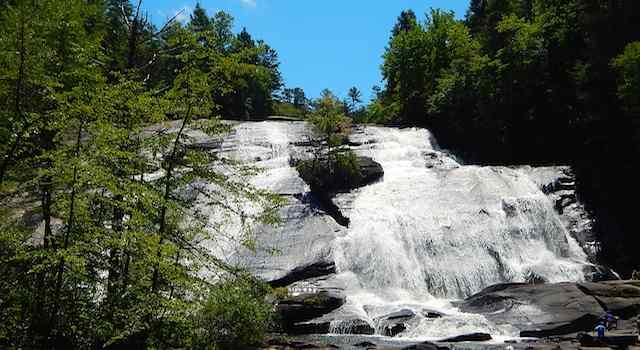 Covered Bridge:
From High Falls we then tracked back on High Falls Trail to the Covered Bridge Trail. This was just a short walk and well worth the view from the bridge and the beauty of the bridge itself.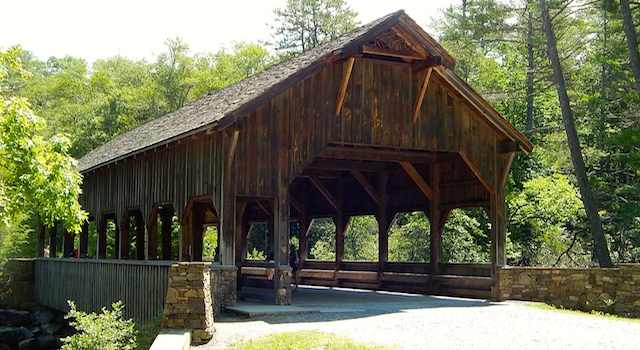 Back to Hooker Falls Parking Area:
From the Covered Bridge, we back-tracked: Covered Bridge Trail, right on High Falls Trail, right on Triple Falls Trail, cross over Staton Road to the parking area.
GPS Tracking Map:
For a complete GPS Tracking Map of our hike to DuPont State Forest – CLICK HERE
We absolutely loved our day at DuPont State Forest and will hike there many, many more times to come. The trifecta of wonderful waterfalls – Hooker Falls, Triple Falls, and High Falls will leave you speechless as you take in all the natural beauty of this amazing forest land.
More Crazy Good Fun:
(Visited 3,459 times, 1 visits today)