Detailed Trail Review: Chimney Rock Climbing Park 
Hiking Highlights: The Chimney Rock State Park: Rumbling Bald Climbing Access is located in Lake Lure, NC. It is known for rock climbing and bouldering. Climbers come from all over the country to experience the challenges this park provides.
Not a climber — this park is still a beautiful hike and offers the added bonus of watching people enjoying the sport of climbing. Hikers will also be able to get a unique perspective of Rumbling Bald Mountain from the base of its' granite rock face. As always, views of Lake Lure and surrounding mountains are best after leaves have fallen from surrounding trees.
NOTE: This park is FREE to enter and should not be confused with the Official Chimney Rock at Chimney Rock State Park which does have a fee for admittance.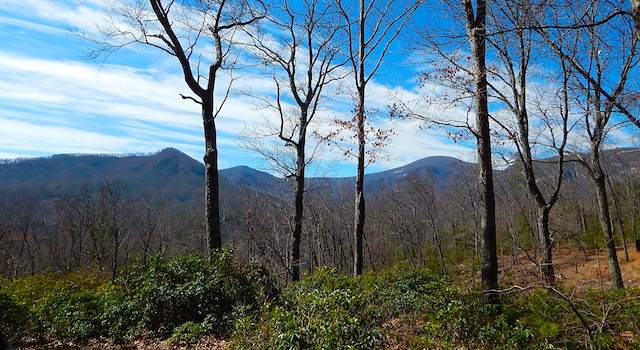 Location: Lake Lure, NC
Approximate Driving Time from Lake Lure Town Center: 10 minutes
Map & Directions: 827 Boys Camp Road, Lake lure, NC 28746. From the Lake Lure Beach, head west on Memorial Hwy. (64W) for 6/10 of a mile. Turn right on Boys Camp Rd (just past Flowering Bridge). Follow Boys Camp Rd. 1.3 miles to the entrance of Park on the left.
Chimney Rock State Park – Rumbling Bald Climbing Access Details:
Hiking Distance (round trip): 1.5 miles
Hiking Time: 1 hour
Elevation Gain: 430 ft.
Difficulty: Moderate
Trail Condition Grade: B
A = Park-like
B = Easily Identified, Good Footing
C = Easily Identified, Bad Footing in Some Places
D = Difficult to Identify, Bad Footing
Trail Challenges: The main trails are very well marked and maintained. However, when exploring side trails, you will come across some minor climbing requirements – some side trails are less obvious as you head toward the face of the mountain.
Dog Friendly: Yes, but just a warning – dogs are supposed to be on a leash no more than 6 feet long. The State Park Rangers do patrol the park and have been known to issue tickets to owners with dogs off-leash.
Amenities: Excellent parking lot which was expanded. It's huge and has some of the best views. The expansion also included a new bathroom facility. Please note there are no doggie bag stations so BYOB (bring your own bags).
Open Times: usually 8 am until dusk
Overall Hike Rating: 4 out of 5
5 of 5 = view at the destination, views during the hike, A or B trail conditions
4 of 5 = view at the destination, A, B or C trail conditions
3 of 5 = no spectacular views but interesting environment, A, B or C trail conditions
1 or 2 of 5 = not worthy of recognition
About the Hike at Chimney Rock Climbing Park: While the Rock Climbing Park is part of Chimney Rock State Park, it is not located within the main park (see directions below). This is a good thing — this park is FREE! The park consists of 1,100 acres on and around Rumbling Bald Mountain and has numerous cliffs and boulders. The park is world-renowned to boulder and rock climbers and several books have been written to assist climbers with the park's extremely technical obstacles.
While there is no big view at the final destination, the plus is that there are interesting views throughout the hike with all the enormous boulders, burned-out areas from the fire, and all the nature that surrounds you.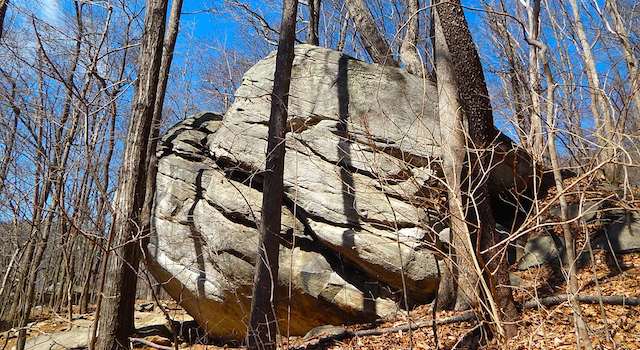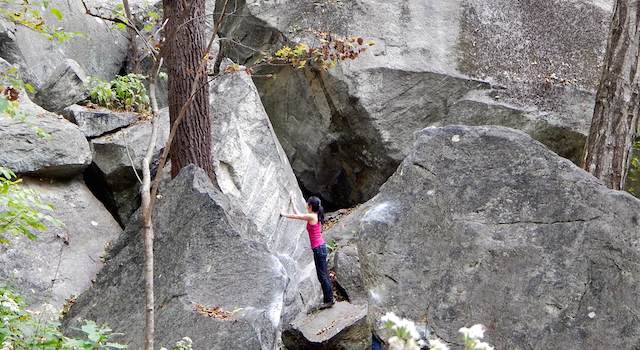 GPS Tracking Map of Chimney Rock Climbing Park Hike:
For a detailed GPS Tracking Map of our hike to Chimney Rock Climbing Park – CLICK HERE
More Information:
For more information on the park, you can check out: www.ncparks.gov
Video From Climbing Competition at the Park:
Check out pictures and more videos from the recent Triple Crown Bouldering Event held at the park.
We hope you enjoy this fun Lake Lure trail at Chimney Rock Climbing Park. Who knows, this hike could spark your interest in a new sport – boulder or rock climbing!
Discover More Outdoors:
(Visited 2,504 times, 1 visits today)