Detailed Trail Review: Buffalo Creek Park – Lake Lure, NC
Park Highlights: The park was designed for mountain biking with switchbacks, berms and rollers for jumping, but it is a multi-use park ideal for hikers, trail runners and nature lovers too. This is the only bike trail system of its kind within 20 miles. When fully developed there will be 10 miles of trails, with this first phase being a 3-1/2 mile loop.
There are multiple creeks along the trail with well-built bridges to walk or ride over. Along the way you have many views of Lake Lure and the adjacent Young's Mountain. With every step up the trail these views become more majestic. About half way up the trail you will also encounter a huge boulder field that may very well become a popular #climbing spot as we met two guys that were out there for that exact reason. All in all, the trails are very well made and maintained which makes this a must do trail hike or ride in Lake Lure, NC!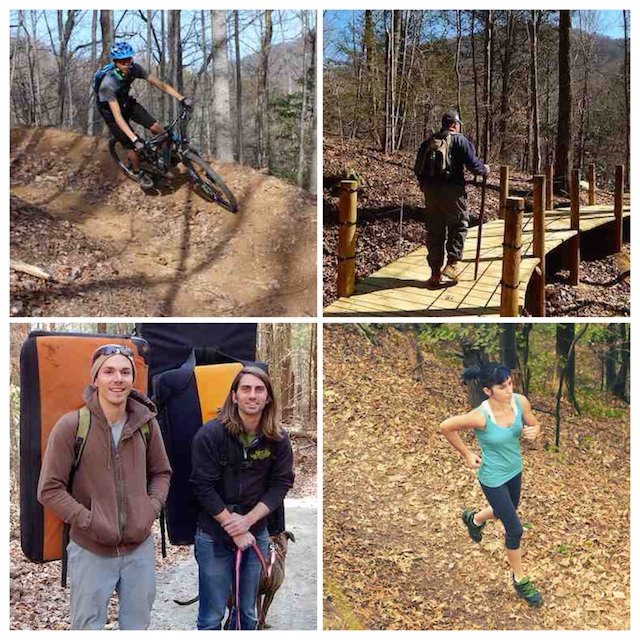 Location: Lake Lure, NC
Approximate Driving Time from Lake Lure Town Center: 35 minutes
Map & Directions: From the Lake Lure Beach, head east on Memorial Hwy. (Hwy. 64E) for 6.1 miles then turn left on Bill's Creek Rd. Stay on Bill's Creek for 1.9 miles and then turn left on Buffalo Creek Rd. In 2.4 miles, Buffalo Creek Rd. will take a right hand turn into Rumbling Bald Resort – turn right here. Stay on Buffalo Creek Rd. for an additional 1.9 miles, passing by the Resort and going up beside Young's Mountain. You will see a Rumbling Bald sign on the left side of the road. The parking area is just passed the sign on the left side of the road.
Buffalo Creek Park – Lake Lure, NC – Trail Details:
Hiking Distance (round trip): Approximately 3-1/2 miles
Hiking Time: Approximately 2 ½ hours (we hiked the trail clockwise and made many photo and video stops)
Elevation Gain: Approximately 538 ft. (minimum elevation 1,050 ft. and maximum elevation 1,588 ft)
Difficulty: Moderate
Trail Condition Grade: A
 A= Park like
B = Easily Identified, good footing
C = Easily Identified, bad footing some places
D = Difficult footing to identify, bad
Trail Challenges: Other than an increase in elevation, there are no real challenges to hikers. There are no tricky creek crossings as bridges are constructed over them and the elevation change does not get you that winded as the trail was constructed with many switch-backs. However, because of these switch-backs there are several rather sharp/blind turns that can become dangerous as the trail activity heightens and bikers and hikers are occupying the trail at the same time. There will be signage directing traffic to reduce issues moving forward. See Multi-us Etiquette below.
Dog Friendly: Absolutely – you technically don't need to keep your dogs on leash – yet. You do need to maintain control of your dogs. Be aware that mountain bikers will likely pass you and everyone's safety is at risk if your dog freaks out. There are no poop bag stations or trash cans so bring your own and carry it out.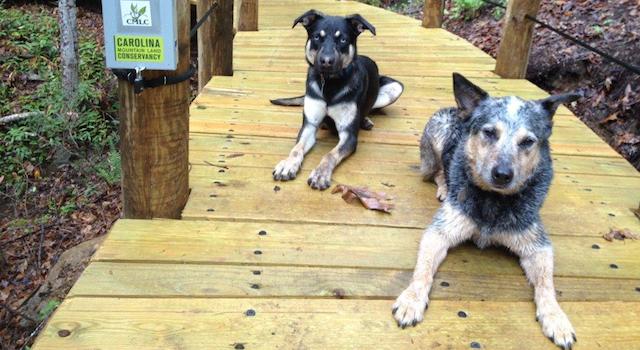 Amenities: There is a small 6 car parking area that is just off of Buffalo Creek Road. Be careful as some of the gravel areas are a bit soft/loose and Mike's truck got stuck a bit as the tires sunk in when he was out there on another trip. For overflow I guess it would be possible to park along the road for more spaces. We didn't see any No Parking signs. That is it for amenities at this point.
Open Times: Usually dawn until dusk
Rating: 5 out of 5
5 of 5 = view at destination, views during hike, A or B trail conditions

4 of 5 = view at destination, A,B or C trail conditions

3 of 5 = no spectacular views but interesting environment, A,B or C trail conditions

1 or 2 of 5 = not worthy of recognition
A Perfect Park for Hiking and Enjoying Nature
About the Buffalo Creek Park Trail Hike:
The time of our hike was the end of February, 2014. At this time, the Park had not "officially" opened but was open for bikers, hikers and we even saw two climbers heading up to the boulder field. The trails are complete but Park signage had not yet been installed. The trail itself is lasso shaped. From the parking area, follow the trail head across the big bridge over Buffalo Creek. Continue about 100 yards and you will see the trail on the right. If you continue straight another 100 yards you will be in the Rumbling Bald parking area (this is a private parking area for Rumbling Bald residents).
Once on the main trail, heading away from Buffalo Creek, continue on about 200 yards to the fork in the trail (this is the start of the loop in the lasso). Once signage is up, bikers will be directed in one direction and hikers will be directed in the other. Please follow your designated direction as this is a safety feature to prevent collisions between hikers and bikers. OK, there are no tricks to this trail – just keep going and enjoy the beautiful scenery that "mother nature" has provided.
An Amazing Multi-Use Park for Biking, Hiking, Climbing and Trail Running
Multi-use Park Rules of Etiquette
As a multi-use park there are certain rules of etiquette that must be followed on this trail – hikers have the right of way over bikers – and bikers should pass on the downhill side of the trail – hikers pass on the uphill side. Eventually there will be signage indicating the direction that hikers and bikers should take each day. Signage at the beginning of the trail and along the way will communicate directions as follows:
Sunday, Monday, Wednesday and Friday – mountain bikers will go left and pedestrians will go right
Saturday, Tuesday and Thursday, pedestrians will go left and mountain bikers will go right (going right – counter clockwise – offers a longer downhill)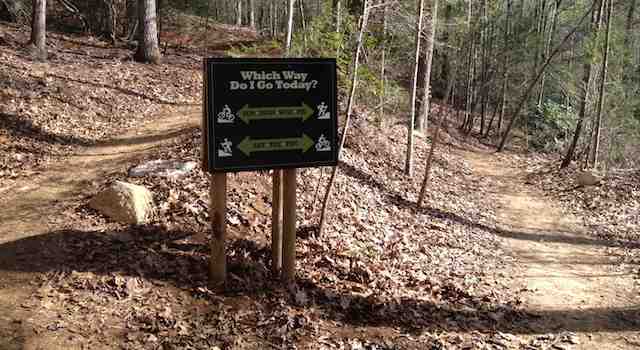 Designed for Mountain Biking
When you are on the trails, it becomes obvious that the trails were designed for mountain biking. Many of the switch-backs are banked for bikers and you will notice several rollers– man-made bumps for jumping. As mountain biking goes, this is a more advanced trail. Based on research, it seems that this trail is designed for Level 4 riders and above. Not being a technical mountain biker, I had to look up the various skill levels. Here is the description of a level 4 rider:
You have been mountain biking for at least two years. You are capable of controlling bike speed and direction on moderately steep and technical single track trails. If you are not sure of your skill level, I would hike the trail to survey the area before riding it. I would like to give a shout out to Trail Dynamics, based out of Brevard, NC, for constructing what I think is an incredible trail for hiking and biking.
GPS Tracking Map  – Buffalo Creek Park Lake Lure NC:
For a complete GPS Tracking Map of our hike to Buffalo Creek Park – CLICK HERE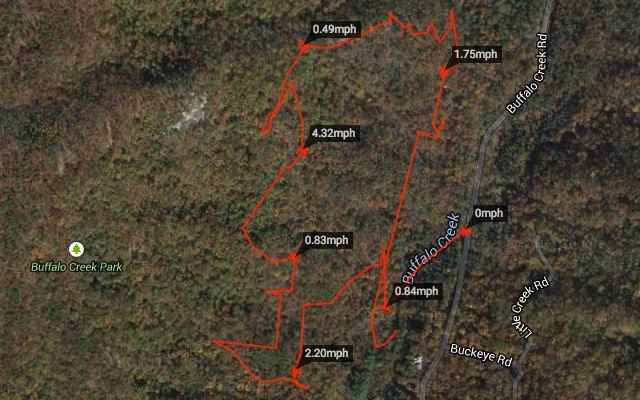 What's in store for the future of Buffalo Creek Park?
The next phase of the trail will head west and go 5-7 miles to Eagle Rock and have another 2,000 feet of elevation gain, which is four times the amount of the first phase at Buffalo Creek Park. This will link it to Chimney Rock State Park property.
For more information about Buffalo Creek Park – Lake Lure, NC visit: www.buffalocreekpark.com
We hope you enjoy your bike, hike, climb or nature walk at Buffalo Creek Park Lake Lure, NC. Stay tuned for updates on Buffalo Creek Park and as always: make sure you leave the park as you found it so others can enjoy the park too.
Links to Various Reviews on Buffalo Creek Park: 
Mountain Bike Project
http://www.mtbproject.com/trail/5185024/hht-trail
Singletracks
http://www.singletracks.com/bike-trails/the-head-the-heart-the-tail-hht.html
Mountain Bike Review
http://trails.mtbr.com/cat/united-states-trails/trails-north-carolina/trail/buffalo-creek-park-hht-trail/prd_513106_4567crx.aspx
Interested in Exploring More Hiking Near Lake Lure:
(Visited 3,716 times, 1 visits today)