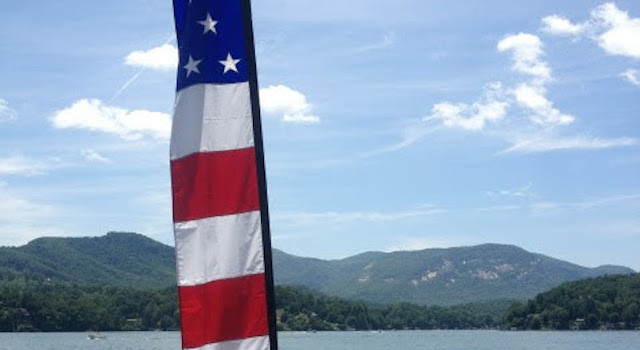 Spend this Independence Day in Lake Lure and the Blue Ridge Foothills whose rich origins in the founding of America make for fun-filled, small-town celebrations with big patriotism. Lakeside parties, Main street festivals, and mountain resort getaways are waiting for you in Rutherford County.
Featured Fun for Celebrating the July 4th Holiday:
July 4th: Independence Day Celebration in the Hickory Nut Gorge
This fireworks display can be seen from two different amazing spots – gorgeous Morse Park Meadows and the serene Beach at Lake Lure! Bring the whole gang and some lawn chairs. The Beach will reopen at 8:00 pm free to the public for viewing the Lake Lure Fireworks which begin at dusk around 9:00 pm.  
For more details: Lake Lure Fireworks Celebration
Chimney Rock State Park
July 4th is the ultimate summer holiday to spend with family and friends and Chimney Rock is the perfect place to do it. You can challenge yourself on our 32-foot climbing tower, take in the different views on one of our many trails and even get up close to some of our wilder staff at the Family Animal Encounters program.
Cost: Included with Park admission
For more details: July 4th Weekend Family Fun
July 3rd: Independence Day Celebration at Rumbling Bald Resort
The Resort will host fireworks on July 3rd. The celebration includes a spectacular Fireworks Show, Boardwalk Arts & Crafts Sale, Family Games, Children's Play Area, Beach Cookout, and more.
NOTE: This day-long event is NOT open to the public. It is only open to resort guests and residents. However, public boat viewing of the fireworks display is welcome and encouraged from the lake. Bring your pontoon boat or rent one and cruise to the North end of Lake Lure to watch the action on the water.
New Policy Note from Rumbling Bald Resort:
For the past few years, we have heard from our resort guests and members how challenging it can be to find seating on the beach and at certain amenities during their stay. To improve their experience, we are implementing a "wristband" policy in effect for July 4th only. Wristbands will only be available to resort guests and members. We ask that you wear one during the day to gain access to the beach, pools, and the fireworks show that evening. These specific areas and events are not open to the general public. All resort guests will receive their passes and wristbands at check-in. No further action is required.
Our hope is with this one-day wristband policy, all our members and guests will enjoy a truly memorable Independence Day Celebration at Rumbling Bald Resort.
Enjoy your July 4th celebrations!
(Visited 3,691 times, 1 visits today)