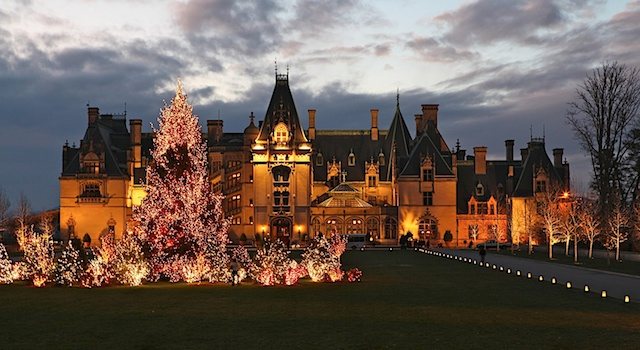 Experience a Norman Rockwell like Christmas as you enjoy these holiday events in Hendersonville, Black Mountain, and Asheville … where grand history is met with even greater holiday spirits.
2019 Holiday Events in Hendersonville, Black Mountain, and Asheville:
Small Town Christmas Celebrations
Hendersonville Home for the Holidays
November 1, 2019 @ 8:00 am – January 1, 2020 @ 5:00 pm
Home for the Holidays, events happening throughout the Hendersonville area from November 1, 2019, thru January 1, 2020. Holiday activities include the Flat Rock Playhouse production, an ice-skating rink, wagon rides, holiday concerts, visits with Santa, Christmas parade, and many other events for all ages; the Home for the Holidays brochure will be available in mid-September, stop by the Visitor Center at 201 S. Main St. to pick-up a brochure, Hendersonville, NC 800-828-4244 or 828-693-9708
For a complete listing of holiday events go to www.visithendersonvillenc.org
Black Mountain – Lighting of the Tree
Black Mountain – Holly Jolly
Shops open w/refreshments, entertainment & Santa.  5-8pm Contact the Chamber with questions 828-669-2300
Black Mountain – Christmas Parade
4 pm along State Street from Flatcreek Road to Craigmont Rd. Entry fee.  Applications at Visitor Center. Presented by the Black Mountain Swannanoa Chamber of Commerce 828-669-2300
Special Interest Christmas Events
No Christmas is complete without the smell of gingerbread all through the house. What's even better … lots of spectacular gingerbread houses on display.
National Gingerbread House Competition & Display – Asheville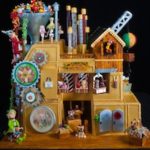 The 26th Annual National Gingerbread House Competition™ will be held on Monday, November 19, 2018. The winning creations will be on display Sunday, November 25, 2018 – January 4, 2019.
As a means to preserve the overall guest experience, The Omni Grove Park Inn invites guests not staying at the resort to view the display after 3:00 p.m. on Sundays or anytime Monday through Thursday, based on parking availability and excluding holidays (December 23, 24, 25, 28, 29, 30, 31 and January 1, 2019). Please note that only Registered Resort Pets will be permitted. No outside pets will be allowed.
Holiday Shows & Performances at Flat Rock Playhouse
A Flat Rock Playhouse Christmas
Winter Lights at the North Carolina Arboretum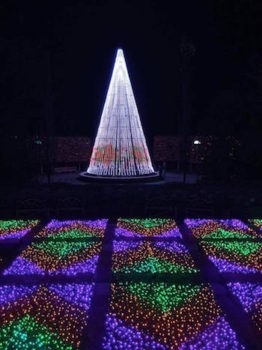 November 16 – December 31, 2018
Open Nightly: 6 – 10 p.m.
Experience Asheville's BRIGHTEST holiday tradition atWinter Lights at The North Carolina Arboretum. Walk through an outdoor winter wonderland and enjoy unique displays and landscapes composed of more than half-a-million holiday lights. Listen to the sounds of your favorite holiday tunes or enjoy a cup of holiday-inspired cocoa, cider or beer. Proceeds generated from Winter Lights help support the Arboretum's educational programs, exhibits and year-round.
All tickets are date-specific and must be purchased in advance ($5 convenience charge applied when purchased at door on non-sell out nights). Guests must select an entry time (6:00 p.m., 7:00 p.m., or 8:00 p.m.) when purchasing tickets. Ticket holders may enter any time between their selected entry time and 9 p.m. (Note, if you are using a transportation service such as a taxi, Uber or Lyft, your ride must pick you up no later than 9 p.m. before the entrance gates close.) All tickets sales are final; no refunds/exchanges permitted.
Christmas Events at Biltmore Estate
Biltmore Daytime Celebration – Asheville
November 3, 2018 – January 6, 2019
A daytime visit to Biltmore is a feast for the senses. Wrap yourself in the scent of fresh evergreens as you admire holiday décor featuring wreaths, garlands, and the sparkle of thousands of ornaments on more than 55 glorious Christmas trees. The celebration continues across the estate, including colorful holiday blooms in the Conservatory, commemorative Christmas wine at the Winery, special menus in restaurants, and Antler Hill Village's must-see evening illumination display.
Buy your ticket seven or more days in advance and save $10 on each admission!
Biltmore Candlelight Christmas Evenings – Asheville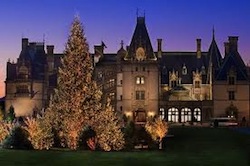 November 3, 2018 – January 5, 2019
Biltmore House greets you with the soft glow of luminaries and holiday lights on a towering Norway spruce. Inside, thousands of ornaments on dozens of Christmas trees reflect the flicker of candlelight, firelight, and twinkle lights. Live performances of Christmas music add to your self-guided evening visit, which includes admission to Antler Hill Village & Winery. The Village is a must-see part of your holiday experience: trees, buildings, and pathways to our restaurants, shops, and Winery are illuminated with a glittering cascade of lights, the fountain is aglow with special visual effects, and the champagne bubble ornament display that adorns the Winery's Tasting Room ceiling is nothing short of stunning.
Where: Biltmore Estate
Website: www.biltmore.com
Cost: Varies based on visit date.
Discover more holiday events and seasonal fun in other nearby towns:

(Visited 2,535 times, 1 visits today)