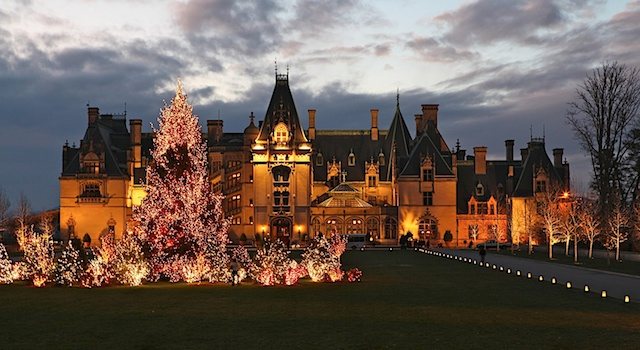 Experience a Norman Rockwell like Christmas as you enjoy these holiday events in Hendersonville, Black Mountain, and Asheville … where grand history is met with even greater holiday spirits.
2021 Holiday Events in Hendersonville, Black Mountain, and Asheville:
Small Town Christmas Celebrations
Hendersonville Home for the Holidays
November 1, 2021 –  January 1, 2022
Come "Home for the Holidays" and experience the holidays with small-town charm, sprinkled with excitement for the entire family. Home for the Holidays events happening are throughout the Hendersonville area during the holiday season.
For a complete listing of holiday events go to www.visithendersonvillenc.org
Black Mountain – Holly Jolly
Downtown celebration themed "Go Tell It On The Mountain".  Shops open w/refreshments, entertainment & Santa on Sutton Ave.
Black Mountain – Christmas Parade
Christmas Events at Biltmore Estate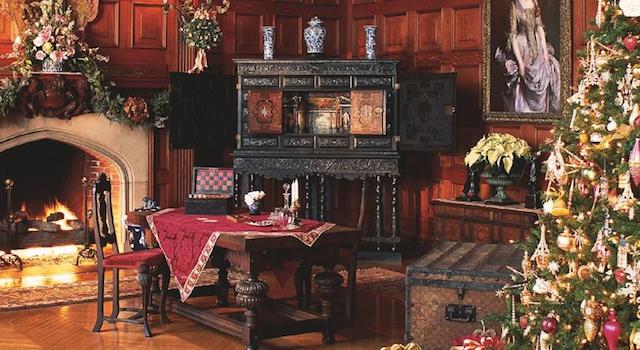 Biltmore Daytime Celebration – Asheville
November 5, 2021 – January 9, 2022

A daytime visit to Biltmore is a feast for the senses. Wrap yourself in the scent of fresh evergreens as you admire holiday décor featuring wreaths, garlands, and the sparkle of thousands of ornaments on more than 55 glorious Christmas trees. The celebration continues across the estate, including colorful holiday blooms in the Conservatory, commemorative Christmas wine at the Winery, special menus in restaurants, and Antler Hill Village's must-see evening illumination display.
Biltmore Candlelight Christmas Evenings – Asheville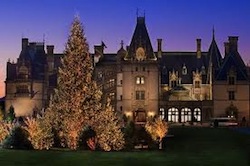 November 5, 2021 – January 8, 2022
Biltmore House greets you with the soft glow of luminaries and holiday lights on a towering Norway spruce. Inside, thousands of ornaments on dozens of Christmas trees reflect the flicker of candlelight, firelight, and twinkle lights. Live performances of Christmas music add to your self-guided evening visit, which includes admission to Antler Hill Village & Winery. The Village is a must-see part of your holiday experience: trees, buildings, and pathways to our restaurants, shops, and Winery are illuminated with a glittering cascade of lights, the fountain is aglow with special visual effects, and the ornament display that adorns the Winery's Tasting Room ceiling is nothing short of stunning.
Where: Biltmore Estate
Website: www.biltmore.com
Cost: Varies based on visit date.

Special Interest Christmas Events
No Christmas is complete without the smell of gingerbread all through the house. What's even better … lots of spectacular gingerbread houses on display.
National Gingerbread House Competition & Display – Asheville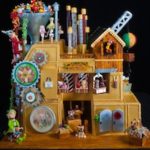 November 28, 2021 – January 2, 2022
For a sweet treat, see the amazing creations at the annual National Gingerbread House Competition at The Omni Grove Park Inn in Asheville. Except for the base, the entries are constructed entirely of edible materials. Check out the winners in both wings of the hotel. Get a map at the information desk in the lobby. As you walk to the various display areas, see dozens of decorated trees in the historic resort. It will get you in the holiday spirit for sure!
Holiday Shows & Performances at Flat Rock Playhouse
A Flat Rock Playhouse Christmas
A family tradition has come home for the holidays. An all-new production. Sure to delight and entertain.  Join us for the celebration
Winter Lights at the North Carolina Arboretum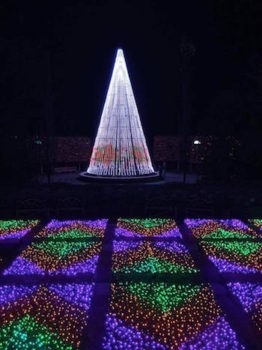 November 19, 2021 – January 1, 2022
Experience Asheville's BRIGHTEST holiday tradition atWinter Lights at The North Carolina Arboretum. Walk through the Arboretum's gardens and enjoy unique displays and landscapes dressed in more than half-a-million holiday lights. Perfect for the entire family, Winter Lights includes interactive games, a model train exhibit, free crafts, a nature-themed animatronic children's program and more! As the Arboretum's largest fundraising event, proceeds generated from Winter Lights help support the Arboretum's educational programs and exhibits year-round.
Discover more holiday events and seasonal fun in other nearby towns:
(Visited 4,510 times, 1 visits today)