Party Rock Lake Lure Detailed Hiking Trail Review:
Hiking Highlights: By far, the best view of Lake Lure anywhere (except maybe by air). While hiking Party Rock is a bit technical with unsure footing caused by loose rocks and gullies, the payoff at the top is huge! It's like a beautifully wrapped gift that you get when you reach the stone-faced ledge called Party Rock. The world of Lake Lure opens up in all its' glory and does not disappoint.
In fact, a view this stunning is begging for a better name … a name that lives up to the incredible 180-degree views that leave you breathless … not from the strenuous hike, but rather from the sheer beauty you'll see before you. Before we knew what the locals called it … we referred to it as The Ledge … but even that falls short. When we're at the top we just like to sit still, breathe deep, look, listen, and take it all in. Partying doesn't even come to mind.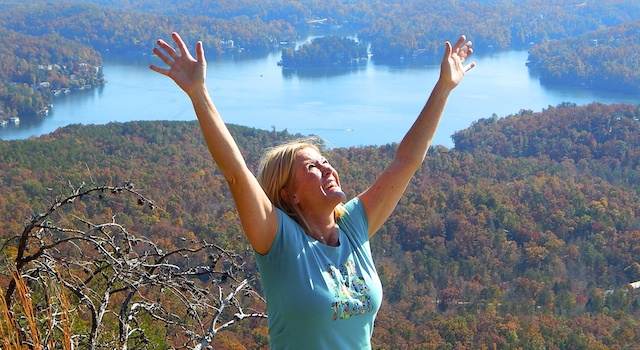 IMPORTANT NOTE:
This is an old logging road / "social" trail that has been hiked for years, but it is not an official park trail. It is not built to grade and show signs of major erosion, thus causing hiking to be hazardous for inexperienced hikers. There may also be rare plants that are vulnerable to damage from climbing, trampling, and scraping, so stay on the "trail".
It is also important to note that there is no designated parking and the entrance area and a small portion of the trial actually falls on private property. As such, it is important to respect the rights of property owners and realize that parking or crossing private property to enter the park is at your own risk. While many people have been accessing these old logging roads or social trails for many years without any complaints, we feel it is important to point this out.
Another item of significance is that the Party Rock WildFire burned 7,154 acres from 11/5/16 – 11/29/16. As a result of the fire, numerous hazards exist. These include dislodged loose rocks, tree bases weakened by the fire, fallen trees hung up in other trees, and deep holes from burned-out stumps. Other hazards may exist in the area as well. Please be very aware of your surroundings.[/su_box]
Location: End of Carson Way, Lake Lure, NC
Approximate Driving Time from Lake Lure Town Center: 10 minutes
Map & Directions: From the Lake Lure Beach, head west on Memorial Hwy. (64W) for 6/10 of a mile. Turn right on Boys Camp Rd (just past Flowering Bridge). Follow Boys Camp Rd. 2.8 miles and veer left at stop signs for Cutaway Rd. Turn left on Carson Way (Just before gated community). Continue on Carson Way to entry gate for Blue Heron Point Subdivision. ***Park where you feel comfortable – on Carson Way, up the hill by blue water tower or on the side of the dirt road beyond the blue water tower. Don't park directly on the dirt road as traffic does periodically come through.
Party Rock Lake Lure Trail Details:
Hiking Distance (round trip): 2.41 miles
Hiking Time: 1 hour 30 minutes (45 minutes to Party Rock)
Elevation Gain: 1,549 ft.
Difficulty: Difficult
Trail Condition Grade: C
A = Park like
B = Easily Identified, Good Footing
C = Easily Identified, Bad Footing in Some Places
D = Difficult to Identify, Bad Footing
Trail Challenges: The main challenges when hiking Party Rock are as follows: no designated parking area, it's not a maintained trail, there are lots of loose rocks on the trail and you are constantly crossing over washouts and gullies. There is also a steep grade (max gradient 38%).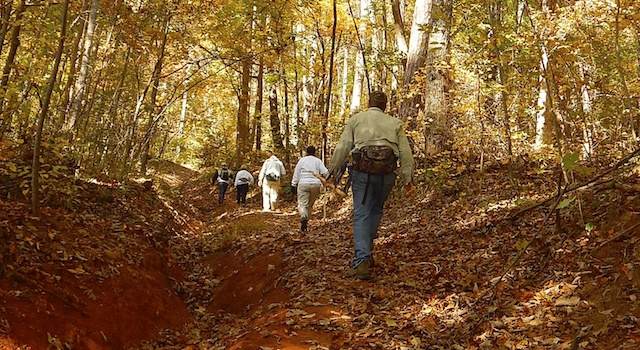 Dog Friendly: Yes, however, based on the loose footing and washouts it is recommended that you hike this trail first without your pets and then decide if it is doable for your pet. Also, if you hike with your dog off-leash, PLEASE make sure you place them on a leash before you get to the top of Party Rock. This is especially necessary if your dog likes to chase birds as it's a long way done. Please keep them safe!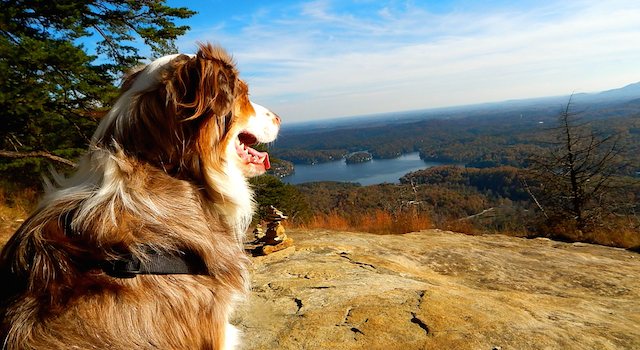 Amenities: None
Open Time: Any time – not a monitored trail
Overall Hike Rating: 4 out of 5
5 of 5 = view at the destination, views during the hike, A or B trail conditions
4 of 5 = view at the destination, A, B or C trail conditions
3 of 5 = no spectacular views but the interesting environment, A, B or C trail conditions
1 or 2 of 5 = not worthy of recognition
About the Hike to Party Rock: The trailhead is the natural continuation of Carson Way – up the hill located to the left of the entry gate for Blue Heron Point. Once up the hill, it turns into a dirt road. Follow the dirt road approximately 200 yards and you will see a trail (another dirt road) entering from the left. Turn left.
Follow this trail up, up, and up some more. You'll get a nice peek of Lake Lure through the trees off to the left and then a bit further you'll see a glimpse of the Rumbling Bald white beach on the right. About 15-20 minutes in you will see a big washout with a tree over it – take the left side detour which bypasses the really washed out area and then gets you back on the main trail. At about 40 minutes in, you will see an old pickup truck dangling from a tree on the left side of the trail. It will truly leave you scratching your head and wondering just how the heck it got there.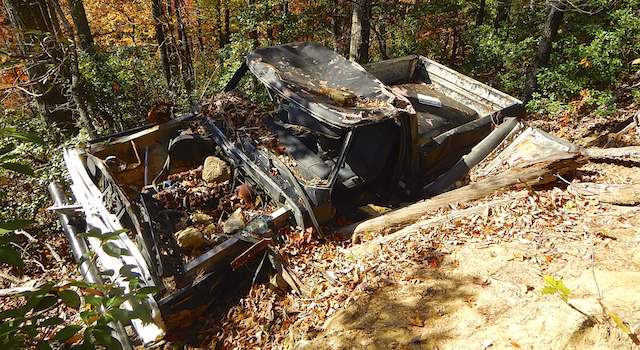 About 5 more minutes on the main trail and you will see another trail entering on the left. Take this left turn for about 75 yards and you will see why this trail is worth the effort. As you approach the granite face you'll see the finger of the lake by the beach and then when fully on the rock it's like the whole world opens up. It's hard to find words to describe it and pictures don't do it justice. Sit … breath deep … and take in the lofty, long-range views of this magnificent place.  Relish in the fact that you got to discover this little secret slice of heaven that brings perspective to just how big and beautiful our world is.  Enjoy it and take it all in.
If you get close enough to the edge, you will see the word "Party" faintly spray-painted on the rock – hence the name. It seems more like Peaceful Rock to me … Please be careful and do not go to close to the edge. As you leave the way you came, please make sure the area is left as you found it so future hikers can continue to enjoy the area. If hiking Party Rock is not enough, the adventurous and energetic hikers can continue on. The main trail does continue up to the top of the mountain and all the way to Shumont Mountain if you want to make a day of it.
GPS Track Map of the Hike to Party Rock in Lake Lure:
For a detailed GPS Tracking Map of our hike to Party Rock – CLICK HERE
We hope you enjoy hiking Party Rock. Take in the view as long as you want then head back the way you came. Please leave the area clean so future hikers can enjoy the area as well.
Explore Our Other Detailed Hiking Trail Reviews:
Cedar Mountain Hiking
Banner Elk Hiking
Gerton Hiking
Lake Lure Hiking
Old Fort Hiking
Saluda Hiking
(Visited 10,826 times, 1 visits today)