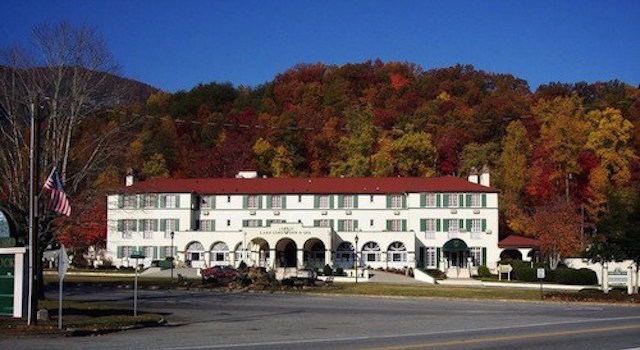 If history, character and incredible views are prerequisites to your choice in lodging, than The 1927 Lake Lure Inn and Spa is where you want to stay. The Inn, completed in 1927, has hosted two Presidents – Franklin D. Roosevelt and Calvin Coolidge – and numerous other VIPs to include Emily Post, F. Scott Fitzgerald, Patrick Swayze and Jennifer Grey. The Lake Lure Inn and Spa is decorated with beautiful antiques that look like they may have been around when Roosevelt visited. If you'd like, you can take a self-guided tour of the Inns public rooms and view the hundreds of antiques and historical exhibits. You are welcome to visit the Inn and tour the collections daily between 9am – 5pm.
The outdoor scenery around the Inn is spectacular as the property is nestled at the base of Hickory Nut Gorge with granite faced mountains and views of Lake Lure at every turn. The Inn is located directly across the street from the Lake Lure Beach. The property consists of the original 1927 Hotel, The Beachside Motor Lodge and 3 private cabins. The elegant Veranda Restaurant is located at the east end of the 1927 Hotel and the Moose and Goose Lounge is located just off the main lobby. Also, don't forget to treat yourself at the Inn's Allure Spa. This is a great way to relax after an active day outdoors.
If you are getting married, the Inn is renowned for its ability to host an unforgettable wedding experience. Book quickly! Open weekend dates may be difficult to secure.
Into ghost stories? It is rumored that the 1927 Lake Lure Inn and Spa may be haunted. Guests and former employees have claimed to have seen or heard things that go bump in the night. In fact, a photo taken by an Inn employee shows a figure standing behind an ice sculpture that was being prepared for an event. While fuzzy, the figure appears to be that of a man or young boy. Follow the link to read more on the ghost stories.
Whether you are coming to beautiful Lake Lure for a wedding, reunion, meeting or relaxing visit, the 1927 Lake Lure Inn and Spa will offer you a memorable experience steeped in history.
Discover Deals and Read Reviews on TripAdvisor and Book Your Stay Now.
Phone: 888-434-4970
Address: 2771 Memorial Highway, Lake Lure, NC 28746
(Visited 1,163 times, 1 visits today)