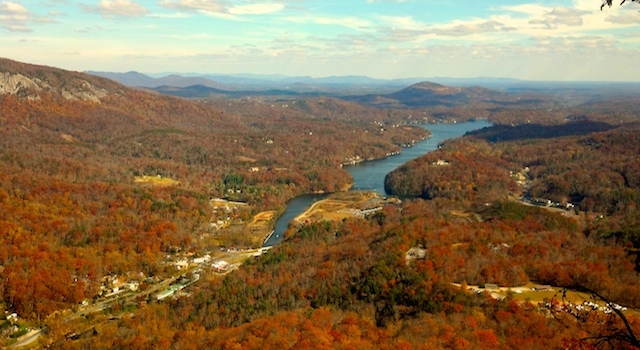 While every month around Lake Lure is beautiful, the month of October has to be one of the best! The weather is cooling down, the leaves are changing colors and towns all around us are holding fun, Fall events.
Our Fall Foliage Report details information on the best time to see Fall leaves and the best Fall foliage viewing areas around Lake Lure, NC. As you plan your Fall mountain visit, your window of opportunity to see Fall foliage is larger than you think. The peak for Fall leaves usually lasts from late September to Early November depending on where you are. The Fall leaves change in color beginning in the higher elevations and cascade down the mountain side to the foothills.
We've also included a list of fun, Fall events and festivities that you won't want to miss.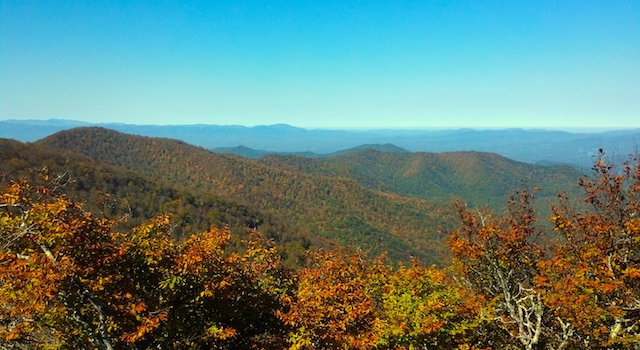 Fall Foliage 2021 Forecast and Guide – Best Timing to See Fall Foliage and Best Viewing Locations
2021 Overview
With our varied elevations throughout the Blue Ridge and more specifically the Hickory Nut Gorge, the area experiences a 5-week color span that slowly descends from the highest ridges down to the lowest valleys.
This year has been warm and wet and has fall color experts reporting that the Blue Ridge area is well-positioned for a colorful autumn with plenty of healthy leaves and no drought. Sufficient rainfall tends to keep the leaves on the trees longer and then having drier conditions moving into fall enhances the color.
Peak Times for Fall Foliage
By far the best time to see the Fall foliage is when the leaves are at their "peak" in terms of beautiful Fall colors. Predicting the peak times for Fall leaves and their coloration can be tricky. Elevation, rainfall, cold fronts, and wind all play a part in when peak color week occurs.
Based on research by Appalachian State's Biology Department here is how we anticipate peak Fall foliage to be timed based on historical data and elevation. See the map below. You can also follow Appalachian State's Weekly Fall Color Reports for current updates on the beautiful fall color conditions.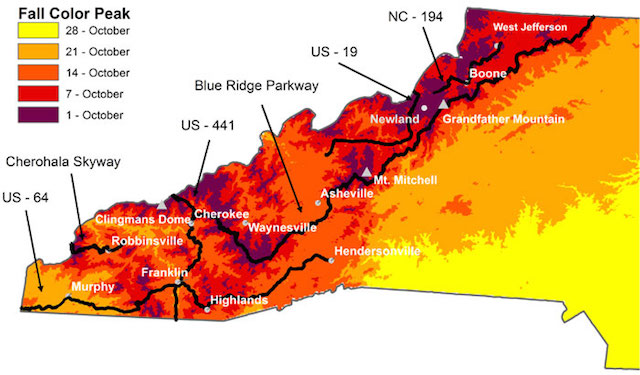 October 1 – October 10: Peak for highest elevations in NC above 5,000 ft. This is mainly the run north of Asheville. Mount Mitchell State Park is a must-see if this time frame is your choice to see fall foliage. As the time draws near, the Parkway has an information line that you can call to hear the latest Fall Color Report: (828) 298-0398, press option 3.
October 7 – 16: Peak time for areas above 4,000 ft. The Blue Ridge Parkway is still your best bet. This is the peak time for the majority of the Great Smoky Mountains National Park Fall Colors as well. Within a short drive of Lake Lure, Bearwallow Mountain is to the Northwest at 4,232 ft. and Little Pisgah Mountain to the North at 4,400 ft. At these summits, you will see the peak color. At an elevation of 4,232 feet, Bearwallow Mountain is one of the tallest peaks in eastern Henderson County and offers beautiful long-range panoramic views.
October 14 – 23: Peak for elevations of 3,000 to 4,000 ft. Within a short drive of Lake Lure we have – Sugarloaf to the west at 3,965 ft., Shumont Mountain to the Northeast at 3,842 ft.
October 21 – 31: Peak for elevations of 2,000 – 3,000 ft. You will see the brightest colors in Asheville (2,000 ft. elevation) and Hendersonville, NC (2,200 elevation).
Chimney Rock State Park (2,280 elevation) also peaks around this time. Witness Western NC's legendary fall colors from high atop Chimney Rock with up to 75-mile panoramic views overlooking Lake Lure and the Blue Ridge Foothills. A premier leaf-peeping destination, the Park offers scenic hiking trails, ancient geological features, nature programs and guided rock climbing that attracts visitors from around the world. Cost: Included with Park admission.
October 28 – November 5: The towns of Lake Lure (1,125 elevation) and Chimney Rock (1,300 ft. elevation) will be picture perfect. Visit Chimney Rock State Park or go for an enjoyable drive or boat ride on Lake Lure for amazing views of all the Fall foliage.
November 1 – 8: The foothills areas around Rutherfordton and the Tryon Foothills area will end our beautiful fall show.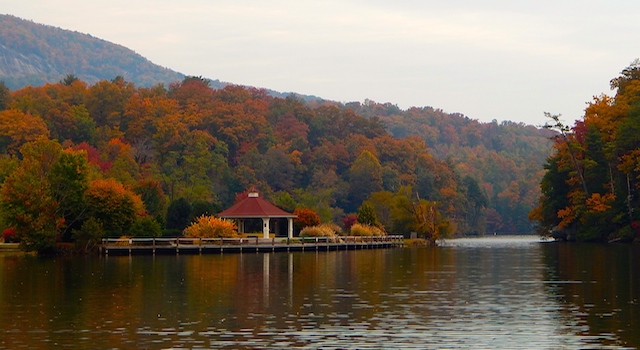 Fall Harvest Fun
October also encompasses the fall harvest. The best way to partake in some of the finest fruits and vegetables in the area is to take a drive up Chimney Rock Road. (US64W) to Edneyville. It's only a 20-minute drive and you will pass by a dozen or more farm stands.
Two of the best have pumpkin patches, farm animals, and plenty to see, do, and taste. The apples are delicious!
Grandad's Apples – Stop by the 70-acre farm and enjoy delicious pre-picked apples fresh off the trees daily. Also have fun with the corn maze, barnyard animals, cow train, bakery, and more delicious treats. There is also an amazing pumpkin patch. On weekends you will also find BBQ for lunch so go and spend the day. We love Grandad's! The people are amazing and you get to sample all the apples and pack up your own selection versus the pre-packed bags.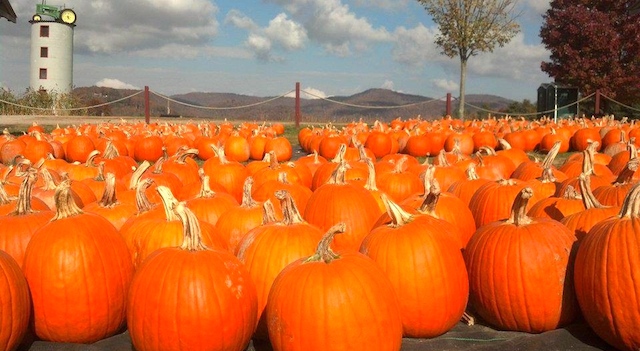 Chimney Rock Scarecrow Contest – October 1st – 31st – The annual Scarecrow Display and Contest in Chimney Rock Village adds a bit of Fall fun to the Village. Each year the streets are festively lined with handcrafted scarecrows vying for top honors! Bring the family and stroll through Chimney Rock during the contest to see them all and vote from October 1st – 31st. Winners announced on Halloween night.
Address: Main Street, Chimney Rock, NC 28720
Hickory Nut Gap Farm – This is a favorite little tucked away farm offering grass-fed beef, pastured pork, and poultry, and on-farm tourism activities including organic u-pick berry operation, apples, school tours, animals to hold and feed, and a farm store that is open year-round. When you pull open the creaky door and step inside you will feel like you've stepped back in time.
During the Fall season (September and October) Hickory Nut Gap Farm offers more farm fun that you won't want to miss. You can see the farm animals, play on hay bales, see bees making honey, go through the corn maze and pick your own pumpkin from the pumpkin patch (in October). You can also shop at the farm store. During the weekends you will also find face painting, pony rides, and a food truck on-site offering delicious food while you are there.
Lyda Farms Fruit and Vegetable Market – This is another fun spot for Fall Festivities. Lyda Farms is a wonderful, family-run farm offering a fresh fruit and vegetable roadside market. Kids will love the giant apple bug and the barnyard animals. You will also find an outdoor picnic area and special BBQ food on weekends.
Oktoberfest Events, Fall Festivals, and Events
NOTE: Please check the current festival and event status on the official websites as things change frequently, especially given the current COVID-19 conditions.
Fall in Lake Lure and the Blue Ridge Foothills is filled with gorgeous leaf color, amazing views, and lots of fun autumn events for the whole family. Whether you love hometown festivals, vintage automobiles, or unique local artworks, we've got something for everybody right here in Rutherford County.
Hilltop Fall Festival – Rutherfordton – First Saturday in October
Historic Downtown Rutherfordton might be small but it packs a big punch during leaf season! The Hilltop Fall Festival covers all of Main Street with fair food vendors, face painters, pony rides, live bands, locals selling handmade gifts, and last but not least, the traditional scarecrow contest! The fun kicks off after that morning's Overmountain Victory Trail 5K and the Tour de Pumpkin bike ride. Enjoy the treats, games, and spirit of community in Small Town Friendly!
Asheville Oktoberfest – Downtown Asheville – October
This is the biggest Oktoberfest event and occurs in downtown Asheville on Coxe Avenue. All things Bavarian can be found — from "oom-pah" bands to yodelers, lederhosen to dirndls and beers to brats.
Autumn Lake Lure Arts and Crafts Festival – Held in mid-October in downtown Lake Lure, across from the beach. This event hosts 100 artisans and crafters, delicious food, and live entertainment throughout this two-day event. From music to clogging you're sure to be entertained. This is also a great time to get a jump start on your holiday shopping.



Halloween Activities
NOTE: Please check the current Halloween activity status on the official websites as things change frequently, especially given the current COVID-19 conditions.
Chimney Rock Village Trick or Treat – October 31 from 5 – 7 pm – Bring the kids and trick or treat down Main Street in Chimney Rock Village. Merchants will have candy and Halloween displays set out in front of their stores.
Address: Main Street, Chimney Rock, NC 28720
Trick or Treat Street Hendersonville NC – Trick or Treat Street Hendersonville NC. Enjoy family fun in Downtown Hendersonville, NC with a Halloween costume contest for children and entertainment. Enjoy wide sidewalks & friendly merchants for safe and enjoyable trick or treating.
Location: Trick or Treating with downtown merchants from Allen to 6th Avenue. Costume contest held in the 400 block of Main.
The Haunted Farm – The Haunted Farm is the scariest Halloween attraction in Western North Carolina. The 50 minutes of terror through the woods, farm, and haunted hayride is sure to leave you spooked! There are more gruesome scenes, horrifying sights, special effects, incredible details, and startling scares than ever before. The experience will leave you begging for mercy. It is only a 20-minute drive from Lake Lure up Chimney Rock Road (US64W) and North on Townsend Road.
Address: 624 Townsend Road, Hendersonville, NC 28792
We hope you enjoy all the beauty of the Fall leaves and take part in all the Fall fun. It truly is a picturesque time here in the Hickory Nut Gorge area. In fact, it is my favorite time. The crisp air, beautiful colors, and smells of Fall invigorate the senses and energize your body and soul. Enjoy!
(Visited 12,184 times, 1 visits today)