Profile Trail – Day Hike in Banner Elk, North Carolina
If you want to climb an entire mountain in one day, this hike is perfect for you. The Profile Trail is a backcountry trail on the west side of Grandfather Mountain beginning in Banner Elk, North Carolina.
The trail follows the Watauga River, with many creeks and streams throughout the hike. On the bottom half of the hike, there are turnouts with scenic views of the Blue Ridge Mountains. You will walk through huge boulders rearranged along a part of the trail called "Peregrine's Flight." 2.7 miles up the trail, you will be greeted by Shanty Springs, the last source of potable water on the trail. The Watauga View will leave you breathless as you sit on jagged rocks on top of the mountain. Hike less than a mile further and climb three sets of ladders to reach Calloway Peak, the highest peak of Grandfather Mountain at 5,946 feet.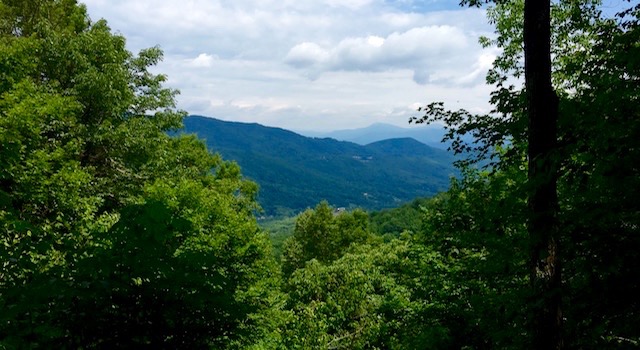 Location: Profile Trail, Banner Elk, NC 28604
Approximate Driving Time from Lake Lure town center: 1 hour 30 mins
Directions: Head south on 64/74-A. Just past the Green Hill Store, turn left on Mountain Creek Road. Turn left onto 221 North. Follow 221 North for 46 minutes (35.5 miles) to NC-105 North. Stay on 105 North for 10 minutes, and the Profile Trail parking will be on the right.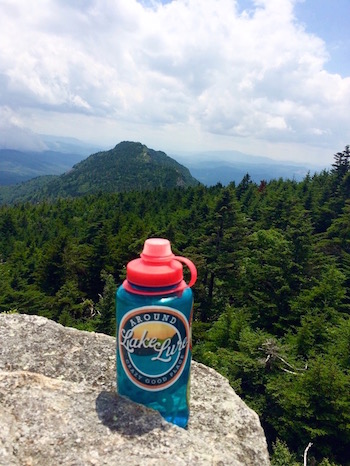 Profile Trail Hike Details:
Hiking Distance (round trip): 6.2 miles
Hiking Time: 4 hours round trip, including break time
Elevation Gain: 1,946 feet
Difficulty: Strenuous
Trail Condition Grade: C
A = Park-like
B = Easily identified, good footing
C = Easily identified, bad footing in some places
D = Difficult to identify, bad footing
Trail Challenges: After mile 2, there is a steep grade with bad footing. On the way to Calloway Peak, there are three short ladders you have to climb.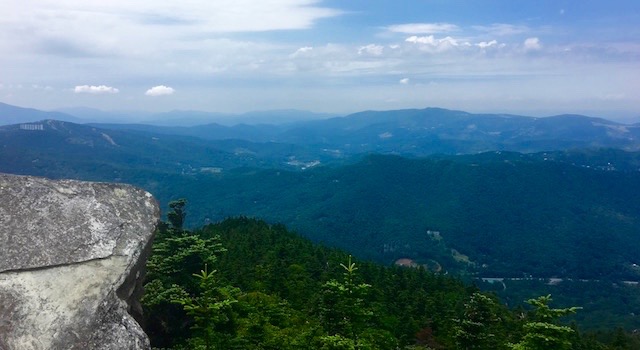 Dog Friendly: Mostly yes. Dogs are able to make it to Watauga View but there are three ladders to get to Calloway Peak, and dogs may not be able to climb here. There are no poop-bag stations or trashcans along the way.
Amenities: The parking lot is off highway 105. If the lot is full, you are allowed to park alongside the road. There are hiking sticks and maps at the trailhead by the parking lot.
Open Times: The Grandfather Mountain Profile Trail is open every day of the year. However, it is recommended you leave the trail as quickly as you can during a storm. It is not recommended to hike Grandfather Mountain in the winter.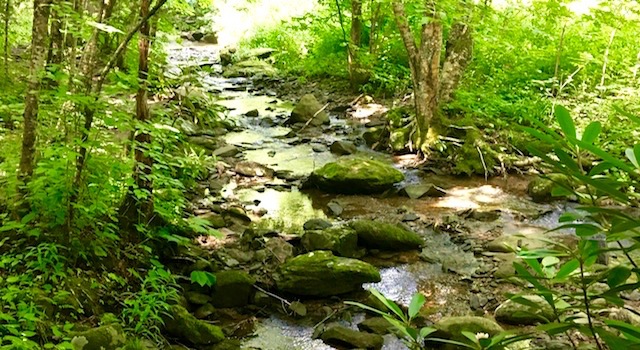 Rating: 4 of 5
Scale:
5 of 5 = view at the destination, views during hike, A or B conditions
4 of 5 = view at the destination, A, B or C trail conditions
3 of 5 = no spectacular views but the interesting environment, A, B or C trail conditions
1 or 2 of 5 = not worthy of recognition
The hike:
The trail starts off easy and winding through creeks and beautiful blooming flowers, but slowly becomes more strenuous. After 2.5 miles, the trail becomes steep and rocky with difficult footing. This hard hike is rewarded with amazing views at the top. Nothing beats the accomplished feeling of hiking while you are sitting on top of a mountain looking down at the world.
For more information on the Grandfather Mountain Profile Trail and all other trails on Grandfather Mountain, take a look at the trail guide.
More Crazy Good Fun and Lake Lure Activities to Enjoy:
Check Out More Detailed Hiking Trail Reviews:
Cedar Mountain Hiking
Gerton Hiking
Lake Lure Hiking
Old Fort Hiking
Saluda Hiking
About the Author – Berkeley Fisher
This is a guest post by Berkeley Fisher. Berkeley earned a B.A. in Communications with a concentration in Leadership from the College of Charleston in Charleston, South Carolina. She is a writer and was a contributing editor for Odyssey at the College of Charleston. In her free time, she enjoys reading, hiking, and watching sunsets.
(Visited 1,780 times, 1 visits today)