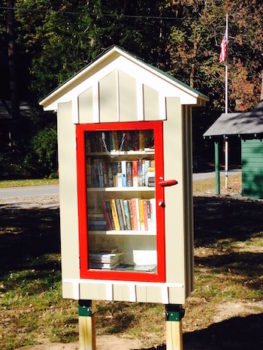 We have a new library in Lake Lure. It's a Little Free Library located at the Lake Lure Flowering Bridge parking area at the corner of Highway 64-74A and Boys Camp Road.
Little Free Library is a nonprofit organization that supports the worldwide movement to offer free books housed in small containers to members of the local community.
Thanks to ingenuity and woodworking skills of Aileen and Doug Kelly, we now have our very own cottage style Little Free Library. The premise is to take a book and leave a book. It's an innovative little book exchange — a meeting place with free books and it promotes literacy in our community and beyond.
It's already full of books thanks to Charlene Efird who initially filled it up with her  personal favorites. She left a few inches of space for others to contribute books and if it's full you can drop your book donations off at the Keller Williams office located across the street at the other end of the Flowering Bridge. Charlene has a storage bin inside where books can be placed.
With tiny houses being all the rage, why not tiny libraries! In fact, there are over 32,000 Little Free Libraries in the United States.
Please plan to stop by, enjoy and contribute to this wonderful new addition to Lake Lure — it's a little thing with a big purpose!
For more information visit www.littlefreelibrary.org
(Visited 165 times, 1 visits today)