MILL SPRING, N.C.: (May 14, 2015): The construction of Roger's Diner at the Tryon International Equestrian Center, located between rings 1 and 2, is now complete and the restaurant is open to the public for breakfast, lunch and dinner seven days a week. The diner's shiny metallic exterior and green pinstripe, and patrons can sit outside at patio tables or inside the "Happy Days" era restaurant at comfortable banquettes, tables or at a traditional lunch counter.
Roger's Diner will offer a menu of classic and southern favorites like burgers, patty melts, grits, and milkshakes along with breakfast all day and gluten-free, dairy-free and vegetarian choices. Fresh, locally sourced ingredients will be used to create seasonal farm-to-table dishes. Beer and wine are also available.
The inspiration for the diner came after Crossroads, another favored restaurant in the area, burned down. TIEC partners Roger Smith and Mark and Katherine Bellissimo frequented Crossroads and were heartbroken when it was destroyed. As a surprise tribute to their friend and partner, the Tryon Equestrian Partners dedicated the diner at the equestrian center to Smith.
"TIEC is here because of Roger's vision and inspiration, so we wanted to name the diner after him as a thank you," said Mark Bellissimo, managing partner of TIEC. "We built Roger's Diner to serve our community and hope it becomes a local favorite."
Staff, construction crew and TIEC partners gathered to celebrate the grand opening of the restaurant on Sunday, May 4.
Roger's Diner is open Mondays and Tuesdays from 8 a.m. – 8 p.m. and Wednesday – Sunday from 7 a.m. – 9 p.m. Following Tryon Café, it is the second eating establishment to open at TIEC. The Legends Club Grille is opening Wednesday, May 20. Blue Ginger, serving sushi and salads, will be premiering the evening of Saturday, May 16.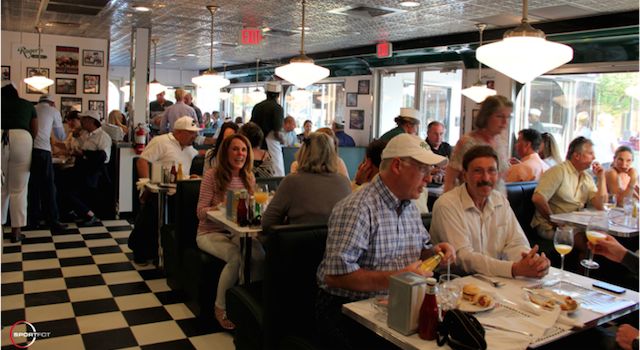 About Tryon International Equestrian Center
The Tryon International Equestrian Center is destined to become one of the premier centers in the equestrian world. This new facility opened in June 2014 with sanctioned horse shows and initial supporting amenities including 10 riding arenas, 850 permanent stalls, a covered riding facility and fitness center. Future expansion includes a sports complex, two hotels, sporting clay course, and an 18-hole golf course plus a full calendar of equestrian competitions and activities. It is a spring, summer and fall haven for eastern and northeastern American equestrian competitors and enthusiasts. For more information, call 828-863-1000 or visit www.tryon.com.
More Crazy Good & Delicious Fun:
(Visited 968 times, 1 visits today)