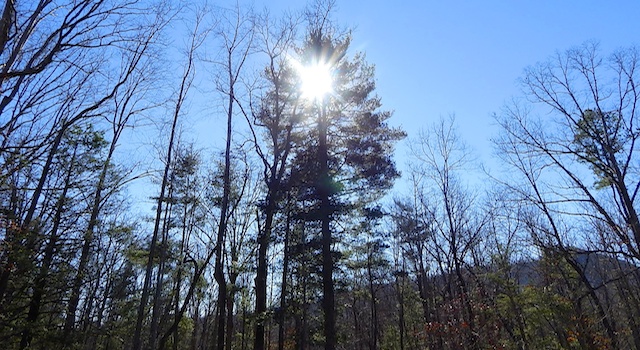 Lake Lure in Winter is spectacular – the beauty, the refreshing mountain air, and the kind people. While you'll love all seasons here in the Lake Lure area, Winter is a special time when things slow down and the stillness heightens your senses and enables you to take it all in on a different level.
14 Reason to Love Lake Lure in Winter:
1. Mild Winters – We truly have mild Winters with minimal, if any, snowfall. This makes for a perfect climate in the Lake Lure, NC area. It's an amazing four-season destination.
2. Perfect Hiking Conditions – Our Winter days are typically in the '40s and '50s. This makes for perfect hiking conditions. You can hike without having to bundle up too much and you can even walk up the 500 steps to the Chimney at Chimney Rock Park without breaking a sweat. Who needs to take the elevator. And, nothing beats big deep breaths of that cool mountain air. Deep breaths refresh and exhilarate.
3. Spectacular Views that Open Up – The views in Lake Lake are spectacular and ever-changing throughout the year. The big benefit of Lake Lure in Winter is that the whole area opens up. The leaves are off the trees and you can see for miles and spot things that are normally hidden away by the thick foliage and lush landscapes. Seeing the jet-blue sky through the leafless tree limbs is indescribable.
4. Peak Climbing Season – Winter is actually a peak season for rock climbing and bouldering. The reason for this is that the rocks are a perfect temperature. Summertime climbing is difficult because the temperature of the rocks gets too hot to hold on to. And, we just happen to have one of the best rock climbing and bouldering parks in the country at Chimney Rock Climbing Park. Even if you don't climb or boulder this is a wonderful park to hike in too.
5. No Pesky Bugs – Lake Lure in Winter is bug-free. Hike for hours, sit outside all day long, and never have to worry about bug bites. Enough said!
6. Slower Pace – Winter in Lake Lure is very low-key. The pace slows down with fewer people flocking to the area. This makes it even more peaceful and relaxing.
7. Off-Season Deals – Off-season offers you the most deals. So, if you like to save money … then traveling off-season to Lake Lure in Winter will save you plenty with all the special packages being offered on airfare, lodging, restaurants, spas, activities, and more. Residents can enjoy these savings too.
8. Things Are Still Flowering Here – Well let's just say they are "flowering" on the Lake Lure Flowering Bridge. This is our newest destination point built on the historic 1925 Rocky Broad River bridge in Lake Lure, NC. Regardless of the season, beautiful gardens and hardscapes, that change seasonally, can be seen along the 155 feet of the bridge and along a pathway at both ends of the three-arch span itself. This is one of only a few such flowering bridges in the country and a spot not to be missed. During the Winter you can find beautiful lights, fairy gardens, and beautiful hardscapes that add beauty and whimsy to the plants and flowers through the Winter months.
9. Great Golfing – Crisp mountain air and beautiful landscapes make golf in Lake Lure a player's favorite. Unbelievably low rates make golf in Lake Lure irresistible! In fact, our championship golf courses at Rumbling Bald Resort have been selected as "Places to Play" by Golf Digest.  And, our Lake Lure Golf Club, a 9-hole municipal course, was just voted "3rd Best 9-Hole Golf Course in North Carolina". These are recognitions we are proud of and ones that you will notice during your round … year-round. Or perhaps FootGolf is more your style as it's great exercise, fun for the whole family, and is offered at the Lake Lure Golf Club.
10. Lively Wildlife – The Lake Lure area is full of Winter wildlife. You'll see deers and turkeys, and squirrels and geese … oh my! Check out our Wildlife on Around Lake Lure's YouTube Channel to watch videos of the wild side of Lake Lure.
11. The Ability to See the Sun Rise – In the dead of winter, the sun rises around 7:00 am here. This is a sensible hour when most are naturally awake and it's a beautiful time to watch the sun come up over the mountain tops. Or if you're here in Spring you can catch Sunrise Service at Chimney Rock Park. A true awakening not to be missed.
12. Comfort Food – Yep. There's nothing better than some warming comfort food and you can find it here. Check out our 5 Legendary Restaurants of Rutherford County for notable favorites. The Tiki Bar & Grill at Geneva Riverside is always open, rain or shine, Summer or Winter. Their burgers are a favorite.  Also, Medina's can't be beaten when it comes to homemade soup.
13. Seasonal Winter Warmer Beers – With neighboring Asheville known as "Beer City USA" many breweries produce their wonderful seasonal "Winter Warmer" beers that are available only during the cold weather months. These are heartier and maltier beers, such as porters and stouts, that warm you up on the inside. Stop by our very own Hickory Nut Gorge Brewery located on the Rocky Broad River in Chimney Rock Village. The views from inside and outside are stunning and the beer is equally delicious.
14. Romance Abounds – They say Virginia is for Lovers. I say Lake Lure is for Lovers. Lovers of … lake views, lovers of long hikes, leisurely Winter days, and long nights curled up in front of a fire. There's no better way to spend time with the one you love.
It's important to love what you do and love where you do it. For me, Lake Lure is a special place I get to call home. If you've never been to the Lake Lure area, I hope this list gives you reasons to plan a trip to Lake Lure in Winter … or any time of the year for that matter.  And, if you're one of the lucky ones, like me, who already lives here … then I've just reminded you why you love it so much!
Discover More Reasons to Love Lake Lure
Check out our events and seasonal activities and discover more reasons to Love Lake Lure during every season.
(Visited 12,381 times, 1 visits today)