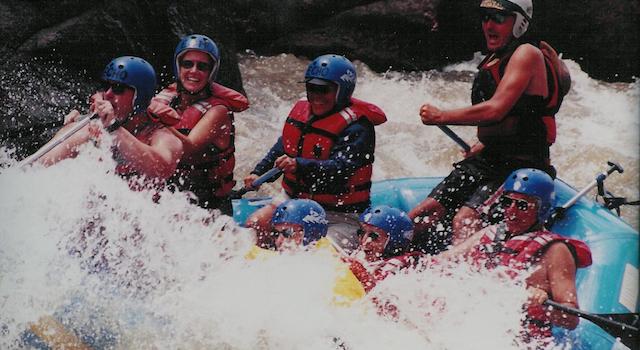 Living life and celebrating new experiences is what life is all about. We've all got some sort of "bucket list" that's jotted down somewhere or that's mentally stored away. Well, I'm here to tell you that it's time to take it out, dust it off and start living the dream! I'm fortunate enough to be living the dream daily here in beautiful Lake Lure. It's an outdoor lover's paradise that will take your breath away.
In fact, one of my favorite life-inspiring quotes has to do with just that …
Life is not measured by the amount of breaths you take, but by the moments that take your breath away.
Whether it's thrills and chills or sheer beauty that takes your breath away … you'll simply love our Lake Lure Outdoor Bucket List. Go ahead. Get to it. Start checking these Outdoor Bucket List Adventures off your list and start experiencing moments that take your breath away.
12 Outdoor Bucket List Adventures:
1  Watch the Sun Rise from Chimney Rock
The perfect time to do this is at the Easter Sunrise Service at Chimney Rock State Park. The pastel palette of colors emerging in the sky over beautiful Lake Lure will forever be captured in your mind like a beautiful painting. And when the sun rises from the horizon you'll gasp at the beauty.
2  Take in Lake Lure from Atop Party Rock
While the hike to Party Rock itself may wind you just a bit, it's the surprise of what you're about to see that gets you. And, the beauty at the top will take your breath away.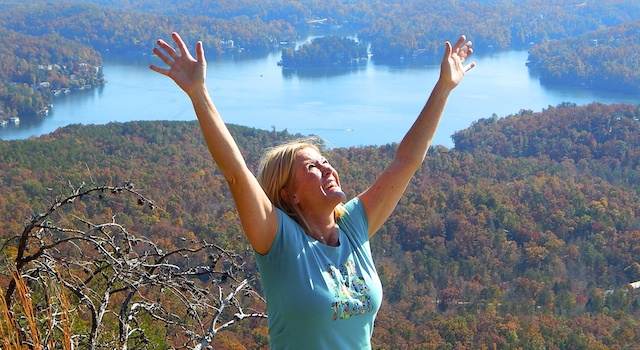 3  Go Zip Lining
Nothing beats the rush of wind in your face as you go whipping through the mountain tops feeling weightless with arms and legs flapping about. We've got several great zip lining options to choose from — Boulderline Adventure Programs (Lake Luke, NC), and The Gorge Zipline Canopy Tour (Saluda, NC) are two favorites.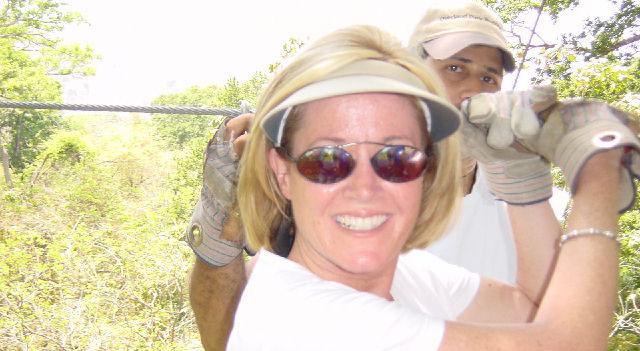 4  Take a Challenging Hike
We're not talking about a walk or stroll here, but rather a serious hike that has you exploring a new trail and gets you out of your comfort zone (all within reason, of course). Check out our list of Top 12 Hikes Around Lake Lure and pick one that will get your heart pounding and your blood racing with the thrill of discovery. This should be an easy one to check off your Outdoor Bucket List.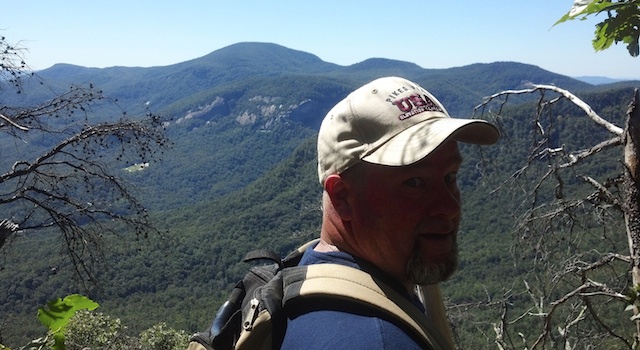 5  Take the Steps to the Top of the Rock
If you're up for another Outdoor Bucket List challenge, skip the elevator and climb all 491 steps to the top of Chimney Rock in Chimney Rock State Park. This will get your heart pounding and the view is spectacular!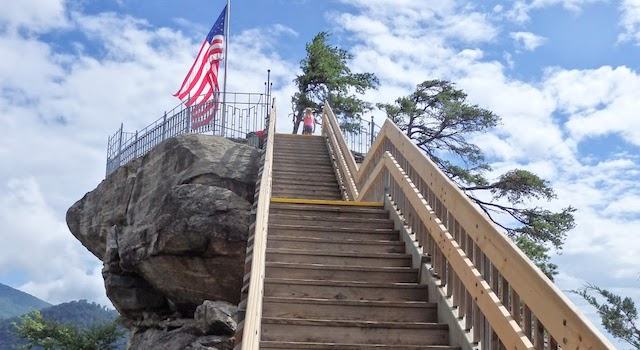 6  Climb a Sheer-Faced Rock
Have you ever dreamed of scaling a sheer rock wall or clinging to a cliff? The exhilaration that comes from scaling the cliffs and walls within the Hickory Nut Gorge can only be experienced by being out there. Fortunately for you, we've got some of the best climbing around. If you're a beginner you can take Rock Climbing Lessons at Chimney Rock Park. And, for advanced climbers and bouldering, check out the Chimney Rock Park Rumbling Bald Climbing Access for more Outdoor Bucket List fun.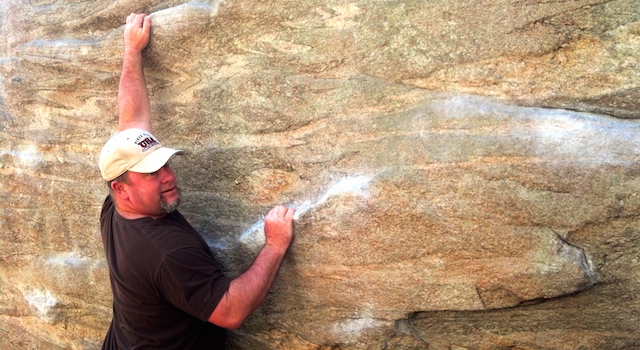 7  Slide Down a Rock
If climbing up a rock doesn't do it for you then why not slide down one – at Sliding Rock (Pisgah Forest, NC). The thrill of sliding down this 60′ natural rock slide waterfall will amaze you. And, the thrill of the chill when you plunge into the chilly water below will shock you.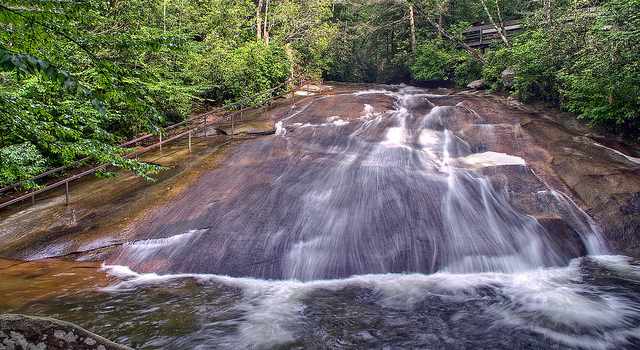 8  Take the Plunge
If the thrill of the chill is what moves you, then you won't want to miss the Lake Lure Polar Plunge. This annual tradition takes place on New Year's Day and the chilly dip will have you freezin' for a reason with proceeds benefiting local charities.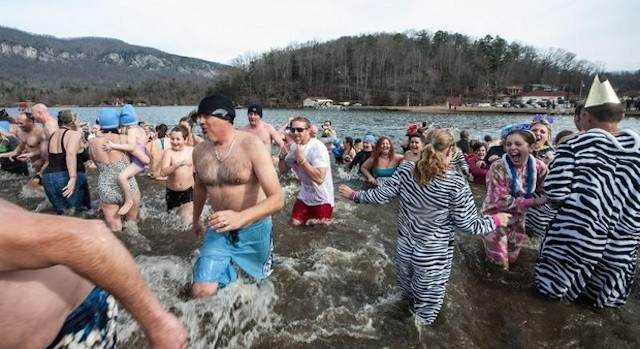 9  Take a Ride on a River
Based on the degree of thrill-seeking that you're looking for, we've got fun wet ways for you to ride a river. If you're looking to relax, float and ride a few rapids … then tubing down the Green River is just for you.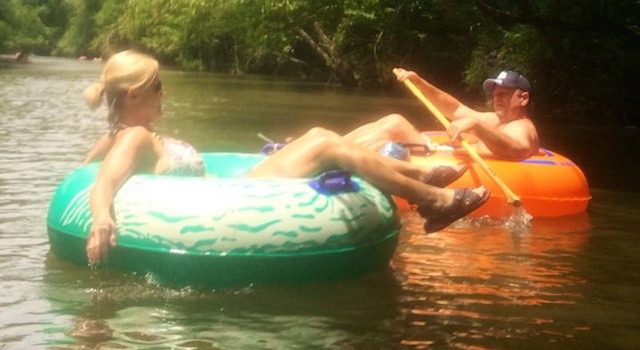 10  Wrangle the Rapids
Or, if white water and white knuckles are more your speed, then you'll love the white water rafting we have nearby.
11  Hike All Our Area Waterfalls
There's something soothing and awe-inspiring when you witness the beauty of our wonderful waterfalls. Hickory Nut Falls, (404′ fall in Chimney Rock Park), Hooker Falls, High Falls, Triple Falls and Bridal Veil Falls (fall-mania at DuPont Forest), Little Bradley Falls (quiet tranquility) and Big Bradley Falls (climb to view) to name a few.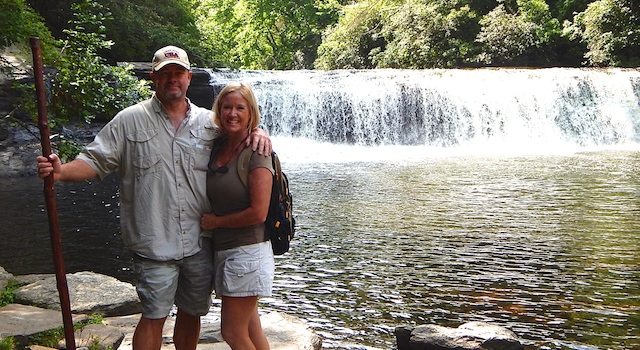 12  Take the "3 Races in 3 Days" Challenge
Last on the Outdoor Bucket List and not for the faint of heart. If one or two races is not enough of a challenge, then try the Lake Lure Olympiad's "3 Races in 3 Days Challenge." Begin with the 10K Dam Run on Friday night, follow with the Lake Lure Triathlon on Saturday morning and close out the weekend atop magnificent Chimney Rock with the Race to the Rock (a 25-mile bike or 5K run that ends with a 7% grade incline three miles straight up to the top of Chimney Rock). A race series that's sure to leave you breathless.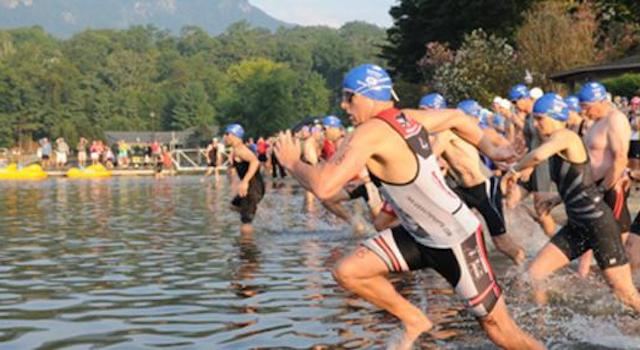 7 down and 5 to go on the Lake Lure Outdoor Bucket List.
How many can you check off?
It's important to make a conscious decision every day to live life. To do something new, push through fears, get out of our comfort zone and feel that rush of joy and accomplishment that comes as a result. Regardless if your style is mild or wild, this Lake Lure Outdoor Bucket List will give you a rush!
More Crazy Good Fun:
(Visited 2,201 times, 1 visits today)