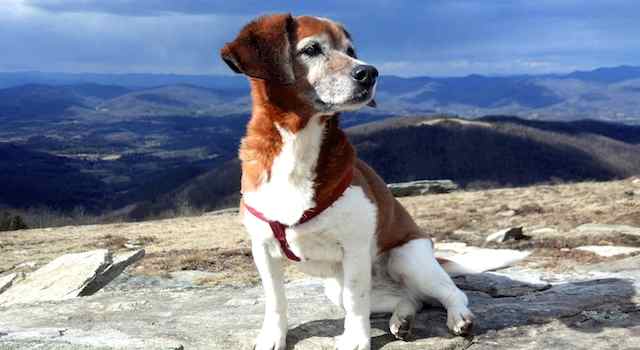 Bearwallow Mountain Detailed Trail Review:
Hiking Highlights: Bearwallow Mountain is located in Northeastern Gerton, NC (Henderson County) and overlooks the beautiful Hickory Nut Gorge Area, Chimney Rock and Lake Lure. Long distance views have you taking in the Asheville area, as well as Mount Mitchell, Mount Pisgah and the Great Balsams Range. Bearwallow Mountain straddles the Eastern Continental Divide and makes up part of the Blue Ridge Escarpment as well as the western rim of the Hickory Nut Gorge. The views at the Summit are 360 degrees and are amazing! The added bonus is that there is a huge grassy meadow at the top for the dogs to run around.
Location: Gerton, NC
Approximate Driving Time from Lake Lure Town Center: 35 minutes
Map & Directions: Bearwallow Mountain Road, Gerton, NC. From Lake Lure and Chimney Rock, go approximately 3.5 miles west on US Hwy. 64/74-A to Bat Cave and the US Hwy 64 split. From this junction, go 5 miles West on 74-A and turn left on Bearwallow Mountain Road. The road becomes gravel, and gets steep and a bit bumpy, but cars shouldn't have difficulty except maybe in severe weather conditions. Go about 2.1 miles to the parking area on the road sides near the rusted gate.
Bearwallow Mountain Hiking Trail Details:
Trailhead: GPS users can enter N35.4607, W-82.3681 into their units for specific directions. The trailhead is at the crest of Bearwallow Mountain Road where the pavement turns to gravel. You will see an old, rusty gate that you need to go around. The trail starts just past the gate on the right.
Hiking Distance: 2.0 miles round-trip
Elevation Gain: 611 feet
Difficulty: Moderate to Strenuous
Trail Condition Grade: B
A = Park-like
B = Easily Identified, Good Footing
C = Easily Identified, Bad Footing in Some Places
D = Difficult to Identify, Bad Footing
Trail Challenges: There are a few steep step areas and depending on rainfall there are a few places that can get a bit muddy.
Dog Friendly: Bearwallow Mountain Trail is a great pet friendly hiking trail and perfect for hiking with dogs of all ages and sizes. We hike it often with our two dogs who love it. Gunner is a young Australian Shepherd and Casey is a 14 year old small Beagle mix. Both do fine on the trail to the summit and have no difficulty. As the property is still privately owned and serves as an active cattle pasture, remember to make sure our four-legged friends stay on their leashes between the months of May and October when the cows make the summit their home!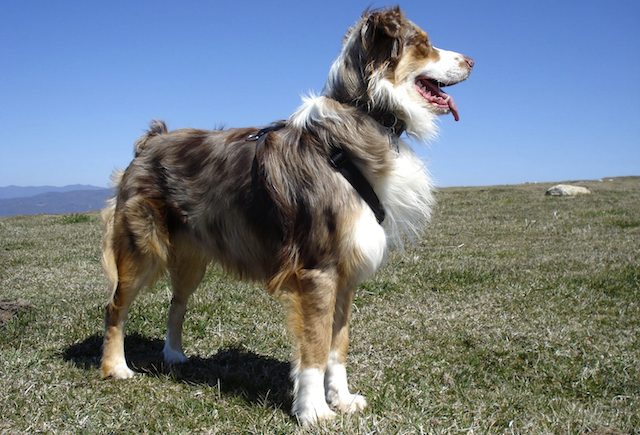 Amenities: Parking is limited so carpool if going with other hikers. Once at the trailhead, park on the shoulder of the road making sure not to block the gate or the road. There are no dog bag stations, garbage cans or water drinking stations so come prepared. Also, no restroom facilities either.
Open Times: From dawn to dusk
Overall Hike Rating: 4 out of 5
5 of 5 = view at destination, views during hike, A or B trail conditions
4 of 5 = view at destination, A, B or C trail conditions
3 of 5 = no spectacular views but interesting environment, A, B or C trail conditions
1 or 2 of 5 = not worthy of recognition
About the Hike at Bearwallow Mountain: Hike the Bearwallow Mountain Trail to the scenic grassy mountain summit. Bearwallow Mountain stands at 4,232 feet above sea level. The trail starts to the right of the gravel road and there are several switchbacks as you ascend the mountain. You will also climb several well constructed rock stairs and then the trail levels out to provide a breather as it curves around Bearwallow's western ridge. At the summit you will find a huge grassy meadow with nearly 360 degree views. This is the perfect place for running around with your dog or relaxing and taking in the view. At the summit you will also find an old fire lookout tower and several phone towers. A fun fact … in the Summer the mountain top is also shared with grazing cows who call it home.
As an alternate hiking route, you can hike the gravel access road just past the old gate and take it to the summit (0.7 mi.). Or you can use the trail and the road to make a loop hike (1.7 mi. round-trip).
Bearwallow Mountain is actually privately owned, but thanks to a conservation easement and a wonderful trail leading to the top, it is now open to the public for hiking. The Carolina Mountain Land Conservancy (CMLC) constructed the trail with the help of REI, the Carolina Mountain Club and many community volunteers. The CLMC reports that the long-term plan is have Bearwallow Mountain trail be incorporated into the Upper Hickory Nut Gorge Trail, a loop that will link Bearwallow Mountain to CMLC's Florence Preserve and the conserved summit of Ferguson Peak. CMLC acquired a conservation easement on 81 acres at the summit of Bearwallow in 2009, forever protecting it from mountaintop development.  They are currently working toward the total conservation of more than 480 acres at Bearwallow Mountain. It is absolutely beautiful and one of my favorite places for hiking with dogs!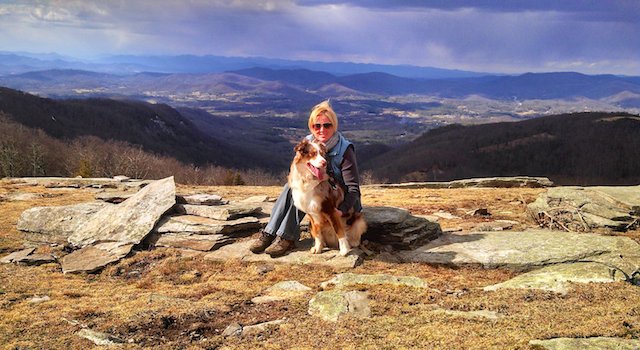 GPS Tracking Map of Bearwallow Mountain Hike: 
To check out a detailed GPS Tracking Map of one of our many hikes to Bearwallow Mountain – CLICK HERE
We hope you enjoy this great hike just a short drive from Lake Lure!
For even more information you can check out: www.carolinamountain.org
Explore Our Other Detailed Hiking Trail Reviews:
Cedar Mountain Hiking
Banner Elk Hiking
Gerton Hiking
Lake Lure Hiking
Old Fort Hiking
Saluda Hiking
(Visited 3,762 times, 1 visits today)