Our Alphabetical Guide for a Great Time and Things to Do in Lake Lure
Lake Lure is the hub for all things fun. Whether it's fun on the lake, the mountains, or the surrounding areas, there is always an activity to leave a smile on your face. Whether you're a visitor or a local you'll always have fun exploring Lake Lure. We are continually surprised to learn how many locals don't know about all the great activities and places we have around Lake Lure. And, we are always pleased to learn when they first discover it here on our site. That puts a smile on our face. For our visitors to the area, there are multiple small towns in the area to learn about. This article will give you an insight to what the area offers.
Things to Do in Lake Lure:
A – Around Lake Lure
Whether it was on your own or through a dear friend such as Google, you found us! Around Lake Lure is your guide to Lake Lure and the surrounding areas. We are always here to help find an adventure in this Crazy Good Place!
B – Bouldering and Baseball 
People come from all over the area to climb here on the boulders. We even hosted a Triple Crown bouldering event at Chimney Rock Climbing Park. It is a series of bouldering events at three of the premier boulder fields in the Southeast.
Forest City is home to the Owl's minor league baseball team. Robert McNair, a founder of the Houston Texans, grew up in Rutherford County and wanted to create a baseball team here. Come out on game days for fun, frozen lemonade, and fireworks.
C – Chimney Rock State Park
Every child who grew up in Rutherford County has gone to Chimney Rock State Park for a field trip. Climb 499 steps to the top of Chimney Rock to overlook Lake Lure. Head over to Hickory Nut Falls in the park to cool off, and see where the final scenes in Last of the Mohicans were filmed. And, after your visit to the park be sure to talk a walk through Chimney Rock Village and check out all the shops and eateries.
D – Dirty Dancing Festival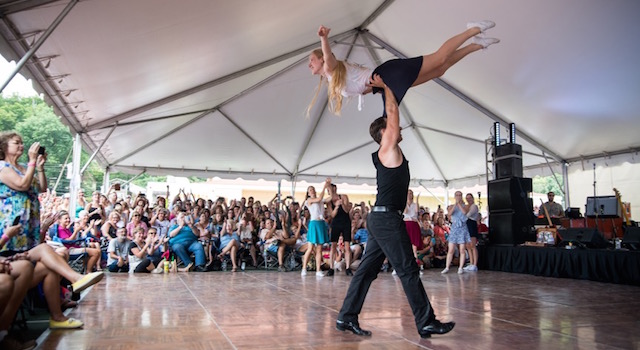 Channel your inner Baby or Johnny at the "Dirty Dancing Festival in Lake Lure." Set against one of the film's original, breathtaking backdrops, the annual festival celebrates our love for this iconic film and raises money for various local causes in a fun, family-friendly atmosphere. Whether you have two left feet or can dance circles around the best of us, this eventful weekend (mid-August) is dance-packed from lessons and games to competitions and entertainers.
E – Equestrian Center
Tryon International Equestrian Center (TIEC) at Tryon Resort is one of the world's premier equestrian lifestyle destinations. With on-site shops, dining, entertainment, and plans for more … non-equestrian visitors are equally marveled by the Tryon Resort experience.
F – Flowering Bridge

The Lake Lure Flowering Bridge blooms on the historic 1925 Rocky Broad River bridge in Lake Lure, NC. When the bridge was closed to traffic in 2011, the Friends of the Lake Lure Flowering Bridge came together to create gardens on the 155 feet of the bridge and along a pathway at both ends of the three-arch span itself. The Lake Lure Flowering Bridge is home to more than 700 species of plants, tended by local volunteers. The gardens are FREE and open to the public year-round.
G – Grandfather Mountain
Only an hour away from Lake Lure, Grandfather Mountain State Park is calling your name. There are free hiking trails ranging from moderate to strenuous with amazing views. Not much of a hiker or have small children? For a fee, you can drive up the mountain and visit the park's Swinging Bridge. Check out our detailed trail review of our Profile Trail Hike on Grandfather Mountain.
H – Hiking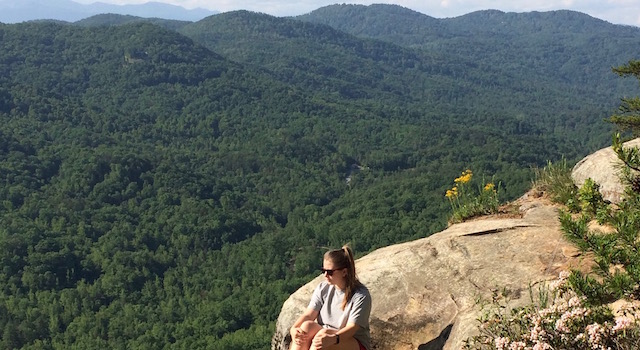 There are many places to hike around Lake Lure. Try Florence Nature Preserve, Little Bearwallow Falls, Bearwallow Mountain, Little Bradley Falls and many others. The views are incredible and the experiences are priceless. For more information on hikes, visit the hiking section of our website.
I – Ingles
It's the only grocery store in Lake Lure, and it's definitely the best in the surrounding area. Ingles began in Western North Carolina and is loved all around. They sell only local produce and try to sell other local products as well. Their store brand is the only one I will trust, and it always tastes best!
J – July 4th
Independence Day is the holiday you do not want to miss in Lake Lure. The fireworks are incredible and the festivities are fantastic! We host two fireworks events over the 4th — The town of Lake Lure hosts on 7/3 at the beach/Morse Park area and Rumbling Bald Resort host fireworks on 7/4 each year.
K – Kids Senses Children Museum
If you haven't taken your kid to Kids Senses, you are missing out yourself. Complete with various playrooms including a bubble room and a miniature grocery store and restaurant, children can let their imaginations roam freely.
L – Lake Lure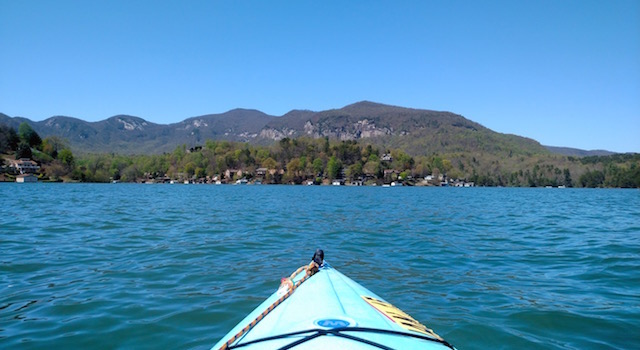 It's the reason you found us – Lake Lure has lured you in! Get out there on the lake via pontoon boat, speedboat, kayak, or float … or dig your toes in the sand at the Lake Lure Beach and Water Park. Where else can you relax on a lake surrounded by breathtaking mountains?
M – Main Streets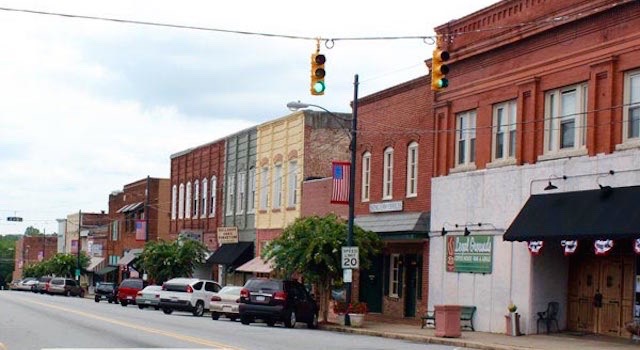 Our charming downtown Main Streets will transport you back to simpler times. Whether a place for locals to gather or the go-to place for visitors, our Main Streets are rich with history and each have their own unique character worth exploring.
Rutherfordton was established in 1787 and is one of the oldest towns in Western North Carolina. Explore historic downtown Main Street, an accredited Main Street America with quaint shops and antebellum homes lining the streets.  While there, you must try Main Street Coffee & Ice Cream serving up delicious Hershey's ice cream. The coffee they use is Larry's Coffee a coffee company from Raleigh that is fair trade, sustainable, and organic. With comfy seating, smiling faces, and bookshelves from floor to ceiling full of interesting reads, you've definitely got to try this place.
Forest City is a town rich in history and growing faster than ever. Take a walk downtown to enjoy the shops and restaurants. Oh, and don't miss Hometown Holidays where more than 500,000 lights shine brightly every Christmas season.
N – Nature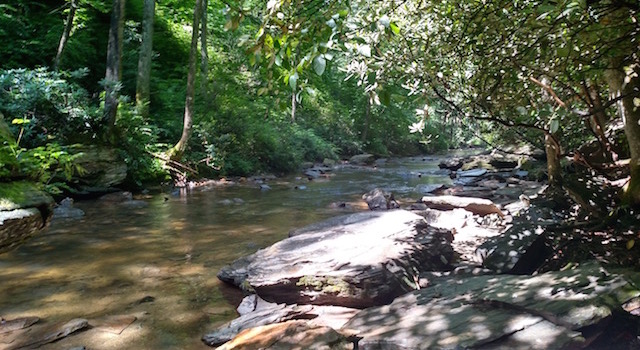 Look up, look down, look all around: it's everywhere. Mountains, creeks, rivers, and lakes surround us. There are thousands of acres of dense green forests and the majestic Blue Ridge Mountains, miles and miles of trails, and 24 miles of stunning shoreline of Lake Lure. We are given the privilege to call this beautiful place home.
O – Olympiad
The Lake Lure Olympiad is a summer sports festival for all ages and abilities hosted in Lake Lure each August. The "3 Races in 3 Days Challenge" includes the 10K Dam Run on Friday night, followed by the Lake Lure Triathlon on Saturday morning and the weekend closes out atop magnificent Chimney Rock with the Race to the Rock. A race series that's sure to leave you breathless.
P – Parks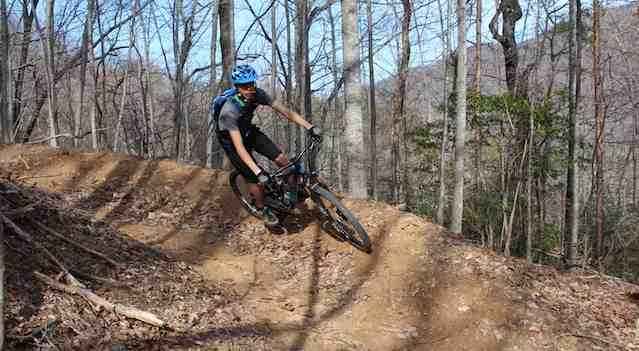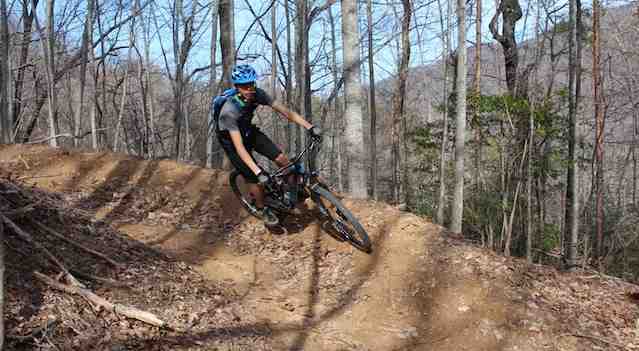 Lake Lure and the surrounding area boast many parks to enjoy. Dittmer-Watts Nature Trail Park and The Multi-use Buffalo Creek Park in Lake Lure, Crestview Park in Rutherfordton and Dunbar Park in Forest City are all fantastic, just to name a few.
Q – Quaint towns
Lake Lure is a small town, surrounded by many other small towns. Collectively, they create Rutherford County, but separately, they each have a different ambiance.
R – Rutherfordton
Rutherfordton is the hub for most events in Rutherford County, including May Fest and Fall Fest. It is also considered the center of the county, as the Rutherford County Jail and Courthouse are located here.
S – Spindale
Spindale got its name from the textiles that once operated there. Now, it is home to great restaurants and small town living. Fun fact: The National Dairy Goat Association is located in downtown Spindale.
T – Tryon and Trains
Located in Polk County, visit Tryon, the town known for its horses. Just a hop away from South Carolina and the Blue Ridge both, it has that friendly small-town atmosphere – complete with good food and cute boutiques.
The Right Track To A Cure For Pancreatic Cancer is an interactive toy train museum for all ages. With three running trains, a playroom for little ones, vintage Lionel trains on display, train magazines, pamphlets and past catalogs for sale and a gift shop. There is something for everyone. 100% of the proceeds go to pancreatic cancer research.
U – Umbrella
It's something you can never come without – an umbrella can be a lifesaver and a trip-maker. In the summer, a thunderstorm rolls by every day by 3:00 pm in the foothills. Take cover and bring an umbrella!
V – Vacations
Whether it's a summer vacation or a simple stay-cation, you are bound to find an adventure waiting for you!
W – Waterfalls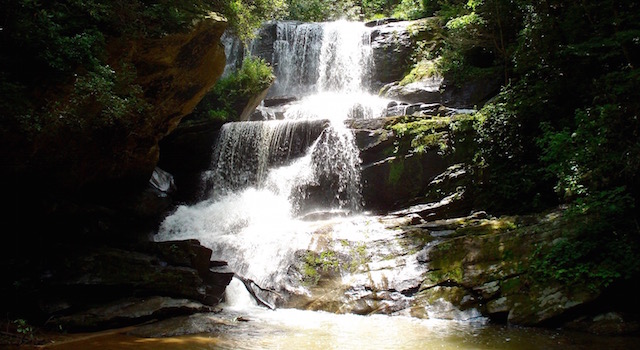 What's a better way to cool off than a dip in a waterfall? Check out our list of waterfalls you must see when you visit.
X – Excellent Views
A trip to the lake or a trip to town is bound to provide you will a breathtaking view of the mountains. Sometimes you just have to pull over and snap a photo.
Y – Y'all
Be prepared for the southern accents when you come our way. Southern accents are stronger in small towns, especially in the mountains. Bless yer heart, I hope y'all ain't havin' too much trouble hearin' us!
Z – Zip-lining
What's a better way to take in those amazing views of the mountains than flying through them? There are multiple zip-lining companies in a one-hour radius from Lake Lure ready to take you on an adventure! The two closest to the lake are Boulderline Adventure Company and Canopy Ridge Farms.
Whether it's exploring the small towns or zip-lining through mountains, you are bound to have a good time exploring Lake Lure. How do you choose to have fun in our Crazy Good Place?
More Crazy Good Fun and Lake Lure Activities to Enjoy:
Check Out More Detailed Hiking Trail Reviews:
Catawba Falls – Old Fort, NC
Pearson's Falls – Saluda, NC
Little Bearwallow Falls – Gerton, NC
Dupont State Forest Waterfalls Hike – Cedar Mountain, NC
Buffalo Creek Park – Lake Lure, NC
Big Bradley Falls – Saluda, NC
Florence Nature Preserve – Gerton, NC
Dittmer-Watts Nature Trail Park – Lake Lure, NC
Party Rock – Lake Lure, NC
Chimney Rock Climbing Park – Lake Lure, NC
Little Bradley Falls – Saluda, NC
About the Author – Berkeley Fisher
(Visited 2,405 times, 3 visits today)