Detailed Trail Review: Florence Nature Preserve Trail
Hiking Highlights: Florence Nature Preserve covers 600 forested acres on the southern slopes of Little Pisgah Mountain and is owned by the Carolina Mountain Land Conservancy (CMLC). This is great nature trail system comprised of over 5 miles of trails. There are nice creeks to walk along side of and hop across, a cabin ruin and a couple of small waterfalls. There are also some larger rock outcroppings and a meadow. This is a great trail to bring the doggies as it is well-marked and well maintained.
Location:
 Florence Nature Preserve – Upper Hickory Nut Gorge Trailhead:
Address: 3824 Gerton Hwy, Gerton, NC 28735
Approximate Driving Time from Lake Lure Town Center: 15 minutes
Map & Directions: From the Lake Lure Beach, head northwest on Memorial Hwy. (74A) for 7.7 miles where you will see a house ruin with only the chimney remaining on the right. Park here.
Florence Nature Preserve Trail Details:
Trail Map:  Florence Nature Preserve Map
Hiking Distance (round trip): There are various trails to hike throughout the Florence Nature Preserve. Depending on the route you take, hiking distances can range from about 3 miles to at least 9 miles if you hiked all the trails (many requiring you to go out and back and road walking to connect them all).
Hiking Time: 1 to 4 hours depending on your course and pace.
Elevation Gain: 915 feet (Min/Max Elevation 2,474ft / 3,389ft)
Difficulty: Easy to Moderate
Trail Condition Grade: B
A = Park like
B = Easily Identified, Good Footing
C = Easily Identified, Bad Footing in Some Places
D = Difficult to Identify, Bad Footing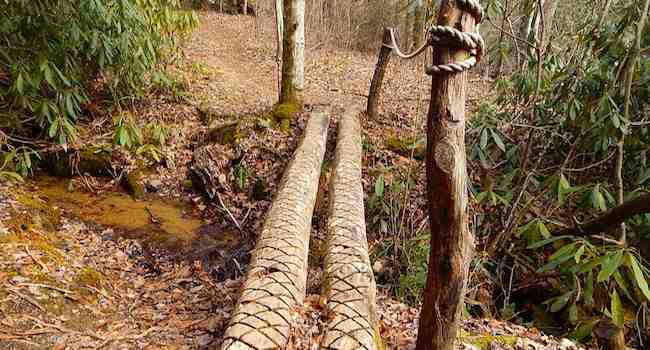 Trail Challenges: There are several creek crossings which are easy to cross. Also if you are not a good map reader, you may stray down a side trail by mistake.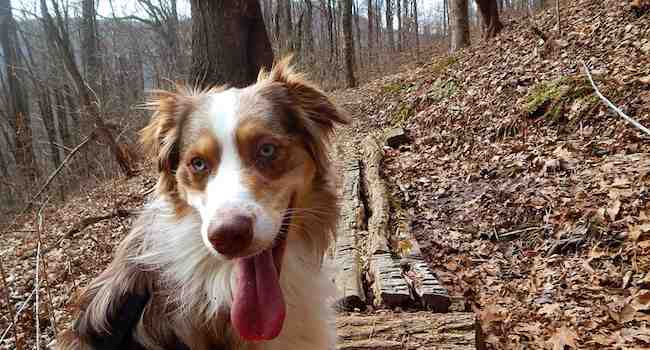 Dog Friendly: Yes – but bring your own poop bags.
Amenities: Good parking but only room for about 12 cars – the lot does get full on weekends.
Open Times: Usually dawn until dusk
Overall Rating: 3 out of 5
5 of 5 = view at destination, views during hike, A or B trail conditions
4 of 5 = view at destination, A,B or C trail conditions
3 of 5 = no spectacular views but interesting environment, A,B or C trail conditions
1 or 2 of 5 = not worthy of recognition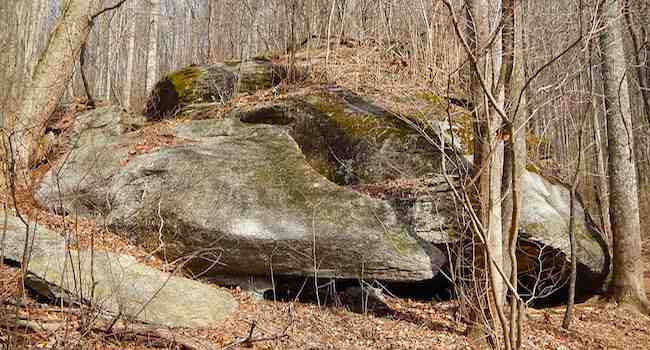 About the Hike at Florence Nature Preserve – Upper Hickory Nut Gorge Trailhead:
Our regular hike here is the main loop. This loop consists of the entry trail (yellow), blue trail, red trail and the dirt road at the southwest end of the loop. So, start at the trailhead located left of the chimney. Just over a ½ mile in you will cross your first small creek and then hit the blue trail. Take a right. Approximately a ¼ mile up you will cross another creek and pass what is left of an old cabin. Just past the ruin is a fork in the trail – take the right fork. If you just went over another creek, your on the correct trail – and then another crossing and a little ways up another. Now you're going to see white trail on the left – stay straight. A bit further you will see gold trail on the right. Gold trail takes you to a rock outcropping but does not have spectacular views (it's a curiosity thing). Gold trail is an in and out trail. From gold turn right back on to blue trail and cross the creek again. Just ahead is a small meadow – great for letting the dogs take off.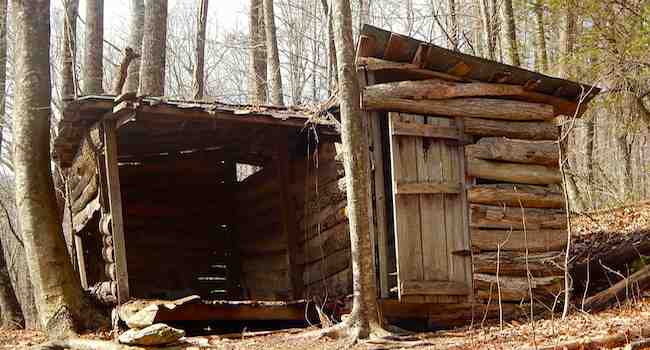 A little ways into the meadow, you will see red trail on the left. Take this trail and you're heading south. You will be on red trail for about 1 ¼ miles. You will see white trail cross red – stay straight. About a mile in on red trail, the trail forks again. Veer right to stay on red trail or go straight to hit gold trail (in and out) and another rock outcropping (a little better view here). I don't know about you guys, but tell me something is out there and I just have to see what it's all about. Coming back from gold, hang a left and you're back on red and going in the correct direction. A little ways down, you will be at the dirt road – hang a left here. After about a half mile on the dirt road, you will get to a bend – on the left side of the road you will see the entrance to blue trail – enter blue trail. Now you will see and cross a couple of small waterfalls and after about 1/3 of a mile on blue trail, you will see yellow trail on the right. Turn right to head back to your car.
GPS Tracking Map of Florence Nature Preserve – Upper Hickory Nut Gorge Trailhead:
For a complete GPS Tracking Map of our hike to florence Nature Preserve – CLICK HERE
We hope you enjoy this trail and please remember: be safe and leave no evidence of your journey.
More Crazy Good Fun:

(Visited 2,173 times, 1 visits today)