Catawba Falls – Detailed Trail Review:
Hiking Highlights:
Once off-limits, Catawba Falls is now open to the public for all to hike and enjoy! The addition of a public parking area and restroom facilities in 2012 makes it the perfect outing for a wonderful day.
Located on an isolated tract of Pisgah National Forest property near Old Fort, NC, it is one of the best waterfalls in WNC that we've had the privilege to explore! What makes it so special — the trail follows alongside the Catawba River which is more like a bold, rushing stream than a river, but it sounds amazing. The trails are on old roadbeds making for easy trekking and the waterfall itself is a breathtaking 100-foot fall with multiple cascades and levels.
If you enjoy getting wet at stream crossings, hiking alongside the rushing sounds of water, and love the thrill of seeing gorgeous waterfalls at trails end; then this is a must hike destination!
Cost: Free
Open Times: Dawn to Dusk
Location: Old Fort, NC – 530 Warren Mountain Drive, Old Fort, NC 28762 (off Catawba River Road)
Approximate Driving Time from Lake Lure Town Center: 45 minutes
Map & Directions: From the Lake Lure Beach, head west on Memorial Hwy. (64W) for 3.8 miles. Turn right on NC 9 (just past Old Cider Mill gift shop). Follow NC 9 for 7 miles to Old Fort Rd. on the right (lots of community signs on the corner). Turn right and continue on Old Fort Rd. for 4.8 miles and bear left where Old Fort Rd. becomes Bat Cave Rd. – continue on Bat Cave Rd. an additional 4.8 miles. Now your right in front of I-40. Right in front of I-40 turn left – yes, it looks like you could be going the wrong way up the off-ramp – pay attention to signs. This left takes you on to Catawba River Rd. – continue 3.1 miles to the trailhead parking lot on Warren Mountain Drive.
Catawba Falls – Waterfall Hike Trail Details: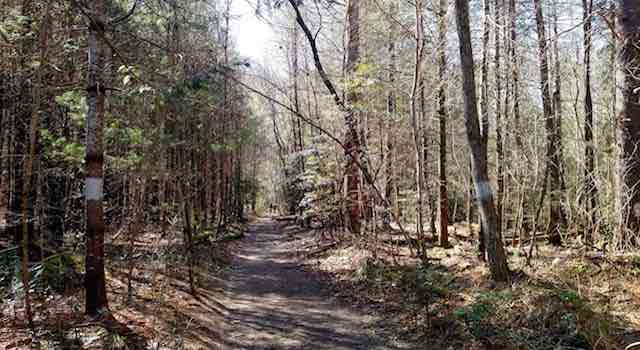 The Hike:
Word is out about this beautiful waterfall and as such this hike has a tendency to get busy on weekends, so plan your trip accordingly. There are ample parking and great restroom facilities at the trailhead. The park is dog-friendly, but dogs must be leashed.
The trail is very well-marked and easy to follow and does not take any severe elevation increases. However, we rate this hike difficult in a few places where water crossings can be dangerous and rock hopping can be tricky. Please be very careful as people have been injured. You will get wet up to mid-calve on a few of the stream/"river" crossings as there are no rocks to hop across. We opt to just walk right on through with our shoes on. A large stretch of the trail runs along the Catawba River which makes for a very tranquil hike.
A little over halfway to the main fall you will see the old dam and adjacent building remains. A huge log managed to bust a gaping hole in the dam and has created another beautiful waterfall. Continue on another half to three-quarters of a mile (and a few more water crossings) to see the wonderful spectacle that is Catawba Falls.
This trail is an in/out trail. So, after you have enjoyed the view; about-face and head back the way you came.
Hiking Distance (round trip) for Catawba Falls hike: 2.8 miles
Hiking Time (round trip): Approximately 2 hours – this includes time spent at observation points along the way and plenty of time enjoying the fall.
Elevation Gain: 535 ft.
Difficulty: Moderate to Difficult – water crossings and rock traversing can be tricky
GPS Tracking Map: For a Detailed GPS Tracking Map of our hike to Catawba Falls in Old Fort, NC – complete with an interactive satellite map with the marked trail, elevation gains, time, distance, pace and even the weather conditions we had —  CLICK HERE
Trail Condition Grade: B-
A = Park like
B = Easily Identified, Good Footing
C = Easily Identified, Bad Footing in Some Places
D = Difficult to Identify, Bad Footing
Trail Challenges: You will get wet as there are so many stream/"river" crossings that we lost count (approximately 5-7). We brought our dog Gunner who was afraid of the water and had to be carried across the first water crossing, but by the end, he was a water-crossing champ! There are also some good size rocks to traverse in a few places which makes the hike a bit tricky in a few spots, but nothing to be overly worried about. This is a popular hike with lots of people and dogs on the weekends, so if solitude is your goal, try going on a weekday.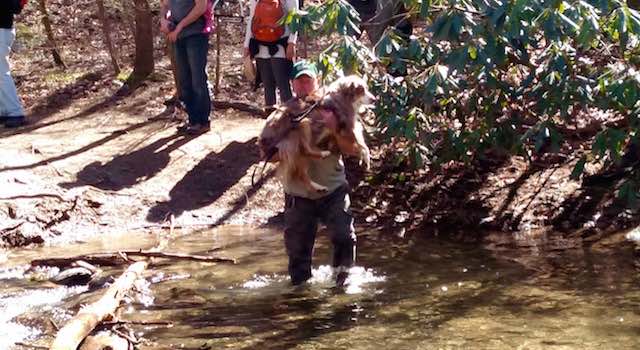 Dog Friendly: The Catawba Falls hike is dog-friendly, but dogs must be on a leash – but we did see several breaking that rule. We first did this hike early on a Sunday morning. On the return portion of our trip, we passed at least 25 dogs of all shapes and sizes. Based on this, we would suggest only bringing your dog if they are friendly and get along with other dogs as the trails are narrower in some spots making rubbing fur-to-fur a possibility. Also, consider how your dog will do with the water crossings. Will they walk on through or need to be carried?
Amenities: Excellent parking and restroom facilities at the trailhead.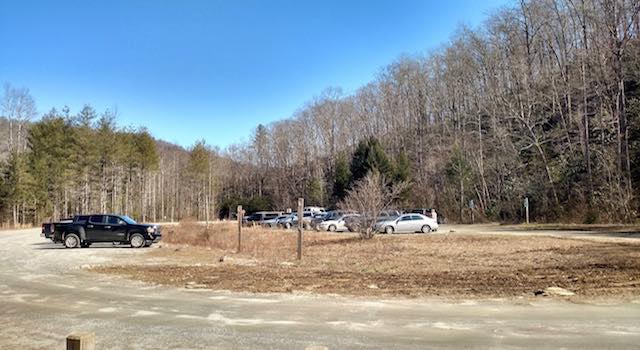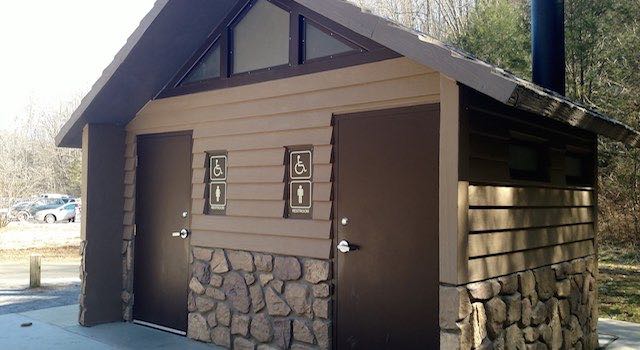 Overall Rating: 5 out of 5
5 of 5 = view at the destination, views during the hike, A or B trail conditions
4 of 5 = view at the destination, A, B or C trail conditions
3 of 5 = no spectacular views but interesting environment, A, B or C trail conditions
1 or 2 of 5 = not worthy of recognition
We hope you enjoy Hiking Catawba Falls – A Beautiful Waterfall Hike in Old Fort, NC — as much as we did. Always remember to leave the trails with as little evidence of your presence as possible. Enjoy!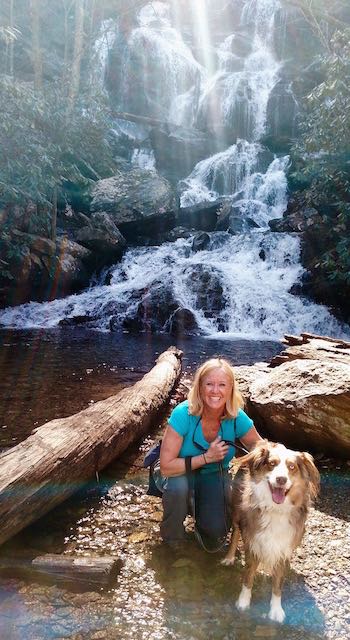 Explore Our Other Detailed Hiking Trail Reviews:
Cedar Mountain Hiking
Banner Elk Hiking
Gerton Hiking
Lake Lure Hiking
Saluda Hiking
(Visited 2,721 times, 1 visits today)