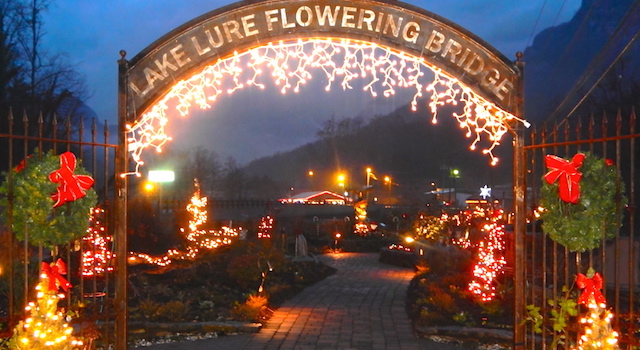 Get in the spirit this holiday season by participating in all these wonderful Holiday Events in Lake Lure Chimney Rock. There's an assortment of holiday happenings in and within a short drive around Lake Lure, NC.  This is the perfect place to enjoy the mountain beauty and splendor of the season. The crisp mountain air and wonderful hospitality add to the family-fun and good times that will be had by all. Experience all the wonder and beauty of the holidays that this magical place has to offer.
2021 Holiday Events in Lake Lure and Chimney Rock:
Please know that every effort is made to ensure the accuracy of event details. However, given the fact that many of the "official" websites post the event information very late, it is possible that things could change and therefore, it is recommended to also check the official websites listed.
Light Up the Gorge
Friday, November 26, 2021 – 4-8pm in front of the Lake Lure Inn
Website: Chamber
Lake Lure – Flowering Bridge Holiday Lights & Decorations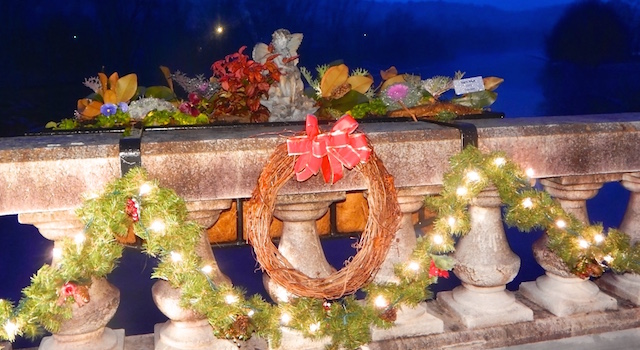 Each year for the holidays our beautiful Lake Lure Flowering Bridge transforms into a winter wonderland and comes alive with festive holiday lights, fairy gardens, fun decorations and more. The Lake Lure Flowering Bridge is the second of its kind in the country and is adorned with more than 700 species of plants and flowers for all to enjoy. The gracious and talented volunteers and Friends of the Flowering Bridge are constantly transforming the garden beds for every season. Be sure to come by and take a relaxing stroll along the Flowering Bridge — it's sure to delight and will get you in the festive holiday spirit!
Chimney Rock – Christmas in Chimney Rock Village
Annual Chili Cook-off, Cakewalk and Bingo followed by Tree Lighting
On the first Friday in December, Chimney Rock Village will host its annual Chili Cook-off and Christmas Tree Lighting Ceremony. From 5:00-9:00 pm locals and visitors will share in the holiday spirit through good eats, including chili and a cakewalk, bingo games, followed by Christmas tree lighting at The Gathering Place.
Breakfast with the Elves at Old Rock Cafe
Join Mrs. Claus and Santa's elves for morning breakfast and a special Christmas story at 10 a.m. You'll not only enjoy festive breakfast foods, but you'll also get to share your wish list with Mrs. Claus and learn a little more about Jolly Old St. Nick.
When: December 4 and 11, 2021 from 8:00 am – 11:00 am
Where: Old rock Cafe in Chimney Rock Village
Chimney Rock – Santa on the Chimney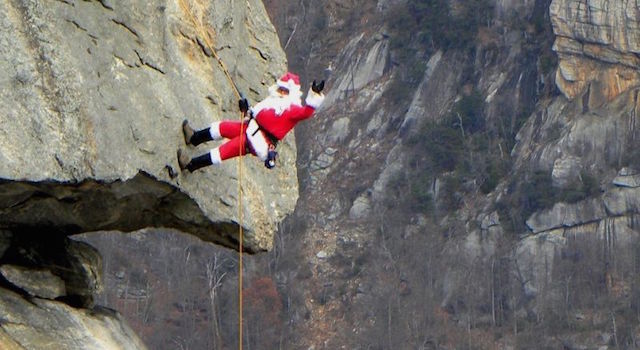 The holiday season in Lake Lure is never complete without the sights of Santa Claus repelling 200 feet from the most famous chimney of all, Chimney Rock at Chimney Rock State Park. Visit the park on the first two Saturdays in December to witness the annual daring descent as Mr. Claus practices to sweep chimneys bringing presents to good children all around the world. Take joy in meeting Santa and Mrs. Claus, listen to live holiday music, sip on hot cocoa with cookies and have fun with kids' activities. Plus meet live Park animal animals and educators.
This unique event is included with park admission.
Lake Lure New Year's Day Polar Plunge
NOTICE: The Polar Plunge for January 1, 2021 was officially been canceled due to the dropping of the lake water level for repairs. Not sure of current status for 2021, but the lake will be down again so unless an alternative location is found it will not be held for January 1, 2022.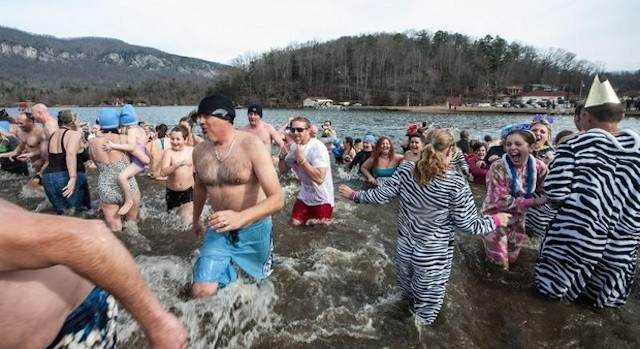 Wrap up the holiday season and kick off the New Year by taking the Annual Lake Lure New Year's Day Polar Plunge. This year it will be held at the Lake Lure beach area.
You'll be "freezin' for a reason". Brave souls will take a chilly plunge into beautiful Lake Lure to enliven and invigorate the senses, have fun and get some well-earned bragging rights. There will be a bonfire, games, costume contest, cash prizes, and hot chocolate!
New Year's Eve and New Year's Day
The following places consistently host New Year's Eve dinner specials, events, and festivities. Check official sites for details in order to make your plans.
New Year's Eve Event at Rumbling Bald Resort
New Year's Eve Dinner Buffet at La Strada Restaurant
The Esmeralda Inn New Year's Eve Dinner 
Discover more holiday events and seasonal fun in other nearby towns:
Check back as we will continue to update our Christmas and Seasonal Fun post as we learn of more holiday happenings around Lake Lure.
We hope you enjoy these wonderful Christmas events around Lake Lure and we wish you all the happiest of holidays. May you find joy in the little things and fill this Christmas season with special times and magical memories with family and friends! Cheers to a wonderful and prosperous New Year too!
(Visited 10,909 times, 1 visits today)