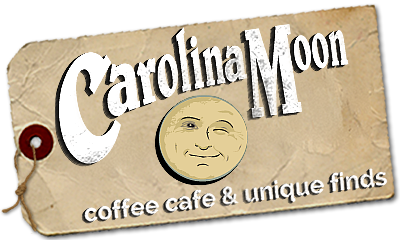 Carolina Moon Coffee Cafe is a neat little neighborhood coffee cafe tucked away behind Sotheby's in Lake Lure. They offer indoor seating and a large outdoor deck with magnificent views. The atmosphere is super homey and cozy with views of the mountains and the headwater of Lake Lure. You'll want to curl up in a chair and read a book or you can even get some work done with their free Wi-Fi. We've even used it as a great meeting place.
They have three private label coffee blends (Lake Lure, Chimney Rock and Bat Cave blend) sure to please coffee connoisseurs and offer a variety of blended drinks and smoothies. You can also get light eats such as some yummy wraps and other light lunch fare. While there, be sure to take in all the wonderful hand made gifts crafted by local artisans that are displayed throughout the cafe and are all available for purchase. Lake Lure is home to some amazingly talented artists and there are some beautiful and  unique hand-crafted items.
Carolina Moon is also very pet friendly and the outdoor deck is the perfect place for relaxing with your furry friend.
Website: Carolina Moon Coffee Cafe
Phone: 828-537-1771
Address: 2992 Memorial Highway, Lake Lure, NC 28746
(Visited 887 times, 1 visits today)