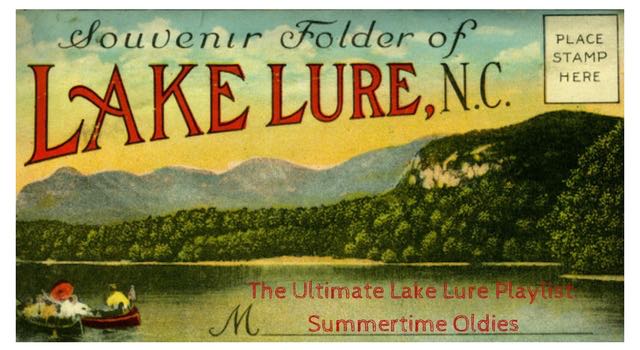 Remember all the fun you have at the lake each Summer — sitting on the beach, boating, BBQ's, bonfires and just enjoying beautiful days outside having fun with family and friends. Maybe it's Lake Lure. Maybe it was another lake where you let the lazy days of Summer just slip on by. Well, whether it's Summertime or you're just wishing it was … this is the perfect playlist to put a smile on your face and get those happy feet moving.
Music is a new addition to Around Lake Lure. Music has the power to move you in the present day and to trigger memories of fun times had and good times gone. What a better way to come together and celebrate this crazy good place … than with music — fun, uplifting music that you'll find yourself humming all day … and smiling while you do it.
Harken back to the simpler times with The Ultimate Lake Lure Playlist: Summertime Oldies Edition. Nothing says Summertime or gets you in that great sun-shiny spirit like the fun-lovin' hits from Mungo Jerry, Marvin Gaye, Bob Marley and more toe-tappin', fun favorites.
Now all you have to do is come here and hit play when you need a little mood boost.
I promise you'll be in better spirits after listening to this great Summertime Oldies playlist. Just hit play and get ready to be transported to a happy place … a crazy good place!
Lake Lure Playlist Summertime Oldies Edition:
In the Summertime – Mungo Jerry
On Love/People Get Ready – Bob Marley & the Wailers
Montego Bay – The Rudies
One Fine Day – The Chiffons
This Old Heart of Mine – The Isley Brothers
Ya Ya – Buckwheat Zydeco
Hold Tight (Want Some Seafood, Mama) – Fats Waller
Ain't No Mountain High Enough – Marvin Gaye
Sleepwalk – Santo & Johnny
Heat Wave – Martha Reeves & The Vandellas
Rum and Coca cola – The Andrew Sisters
Under the Boardwalk – The Drifters
Optional Ways to Listen to the Lake Lure Playlist Summertime Oldies Edition:
YouTube
Simply click on the play button below and listen away … but you've got to stay on this page while listening. Or, you can listen on our Around Lake Lure YouTube Channel where you'll find other music playlists and fun videos too! There you can hit play and surf away … multi-tasking to music.
Around Lake Lure's Spotify Channel
Another option is Spotify, a great free digital music service. It requires a quick free signup and then you can enjoy this playlist and all sorts of other music until your heart's content. I'll likely be adding songs to the Spotify playlist as I find new ones that I love. So, any tracks after #12 and new finds and extra tracks.
I'm smiling now … listening to it as I write … wishing it was Summer! YaYa (#6) is on now. My favorite one on this playlist.
Smiling is good. Happy is great!
Enjoy.
(Visited 313 times, 1 visits today)